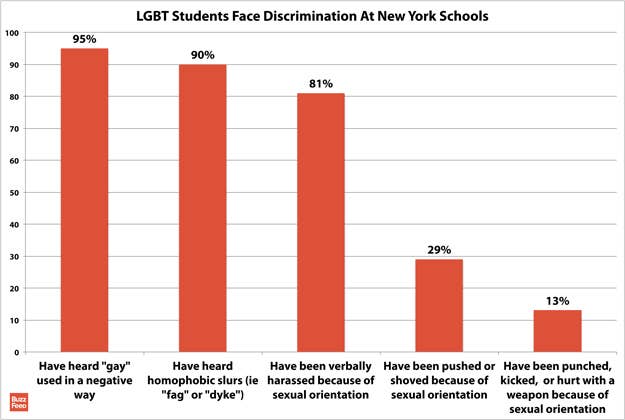 New York may have a reputation for being friendly to LGBT rights — the state legalized same-sex marriage in 2011 — but a majority of its LGBT middle and high school students have faced some form of harassment over their orientation.
A new report by the Gay, Lesbian, and Straight Education Network found that 81% of LGBT students had been verbally harassed based on their sexual orientation, while 29% had experienced some form of physical harassment — and 13% had suffered full-blown physical assault in the form of punching, kicking, or being hurt with a weapon. These numbers are comparable to those GLSEN has found nationwide.
As for what would reduce these dispiriting numbers, GLSEN spokesperson Andy Marra says, "We encourage schools to support their gay-straight alliances," which can "offer social support and work within their school community to make sure that schools are safer for everyone." Clear anti-bullying policies that specifically prohibit harassment on the basis of sexual orientation and gender identity can also help. So can curriculums that include LBGT issues: "When a student sees LGBT issues being discussed in history," says Marra, "or has access to LGBT-related content in libraries, it helps promote respect for everyone."