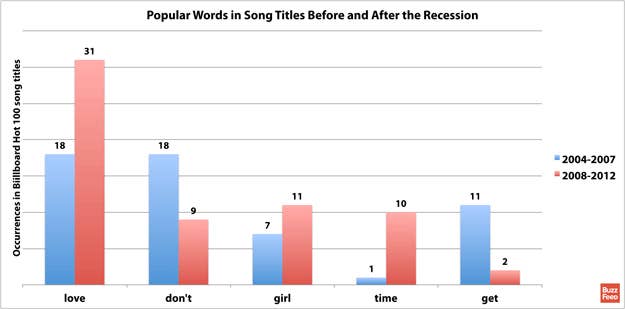 Mid-recession, some experts speculated that economic hardship could increase people's appetite for love, and judging by the songs that got popular after the financial crisis, that may actually be true.
Inspired in part by The Billfold's tongue-in-cheek comparisons of pre- and post-recessionary lyrics, BuzzFeed analyzed the titles of all Billboard Hot 100 Songs from 2004 to 2007, and compared them with the titles from 2008 to 2012. One thing stood out: the word "love" appeared nearly twice as many times in the post-recession years as in the pre-recession ones.
A few other differences emerged: the word "don't" dropped by half in 2008 and after, and the word "time" skyrocketed from 1 to 10 mentions. Post-recession, pop music listeners may have gotten a little more loving, a little less negative, and a little more interested in the fleeting nature of their existence.