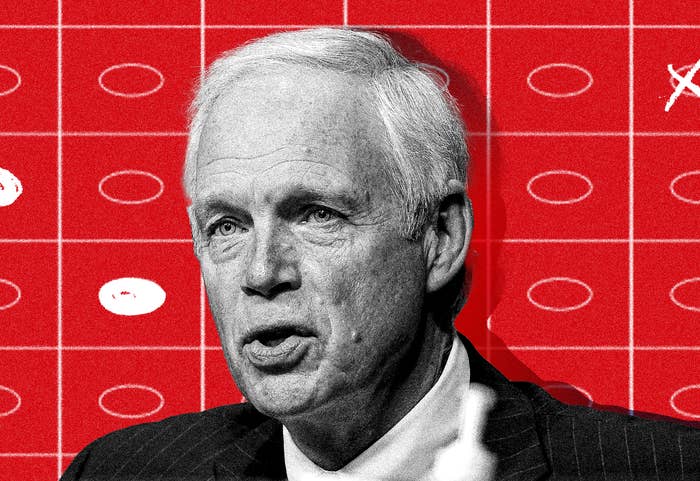 After months of close polling, Republican incumbent Sen. Ron Johnson has won the race for Senate in Wisconsin, defeating Democratic Lt. Gov. Mandela Barnes.
Decision Desk HQ called Johnson as the projected winner just after 2 a.m. on Wednesday. On Wednesday morning he had 50.41% of the counted vote.
Johnson, a former accountant and plastics company owner with an estimated net worth of $39 million, has represented the state in the Senate for 12 years. On Tuesday, voters granted him an additional six years on the job.
Johnson, who is chair of the Senate's Homeland Security and Governmental Affairs Committee, has been known for making false claims about the 2020 election, which he continued to do on the campaign trail. He also focused on the economy, crime, and border security, among other issues.
In contrast, Barnes campaigned on progressive stances such as expanding healthcare access, combating climate change, protecting Social Security, enacting a $15 federal minimum wage, and codifying Roe v. Wade.
Despite saying in 2016 that he would not seek a third term, Johnson announced that he was running for reelection this year in a Wall Street Journal op-ed in which he claimed that "America is in peril," citing the power of the "mainstream media and Big Tech."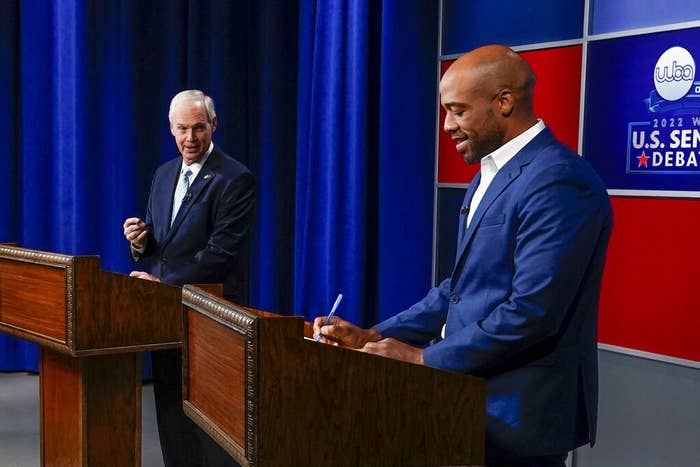 Wisconsin is a battleground state, having voted for President Joe Biden in 2020 and former president Donald Trump in 2016; for years, it has been one of only a handful of states to be represented in the Senate by one Republican and one Democrat. This year's contest between Barnes and Johnson was closely watched as polls showed them neck and neck through the summer.
In June, the House committee investigating the Jan. 6 attack on the US Capitol revealed text messages showing Johnson's staff sought to deliver a slate of "alternate" — and fake — electors in support of Trump just before then–vice president Mike Pence was set to certify Biden's win.
Since the hearing, Johnson has said that he knew nothing about the fake electors scheme. He said that he was contacted by Jim Troupis, an attorney for Trump's 2020 campaign, about getting a package to Pence, but claimed he didn't know what it contained.
During the campaign, Barnes accused Johnson of attempting to overturn the election, stating that ​​"Ron Johnson actively tried to undermine this democracy."
"He literally tried to hand Mike Pence fake ballots," Barnes said. "Once again, Ron Johnson has proven he's a danger to our country and our fundamental rights."
Johnson was one of the Republican lawmakers who planned to object to the 2020 election results on Jan. 6, 2021, but in the end, he and several others withdrew their objections because of the Capitol riot.

However, since then, Johnson has argued that the Jan. 6 attack was not an "armed insurrection" and said in an interview that he would have been more afraid of the rioters if they had been Black Lives Matter supporters or antifa.
On top of this, Johnson has promoted discredited COVID-19 treatments, such as using mouthwash to fight the virus, and in March 2021, he said that he saw no need to get the COVID-19 vaccine. Johnson has also downplayed the issue of climate change throughout his career, and last year was seen in a video describing it as "bullshit."
Abortion has also been a key issue in Wisconsin this election as the implementation of an 1849 ban hangs in the balance. Democratic Gov. Tony Evers, who won reelection, has so far kept it from going into effect.

Barnes had advocated for abortion rights throughout his campaign, saying that Wisconsin should return to the standards used under Roe v. Wade.
"Any politician that thinks they can get between you and your doctor does not deserve their seat in office," Barnes said during a recent debate.
When it comes to reproductive rights, Johnson said on the campaign trail that if he were elected, he would propose a statewide referendum for voters to weigh in directly on abortion. But this suggestion was deemed disingenuous by many Democrats because state law does not currently allow voters or the legislature to place referendums on the ballot, and Johnson opposed an effort to allow citizen-led ballot initiatives.
Johnson has suggested that he does not back the national 15-week abortion ban recently proposed by Republican Sen. Lindsey Graham, but he welcomed the Supreme Court's overturning of a national right to abortion. Last month, Johnson's spokesperson told Politico that he "wants citizens of each state to decide this profoundly moral issue for themselves and personally supports legal exceptions for instances of rape, incest, and to save the life of a mother."