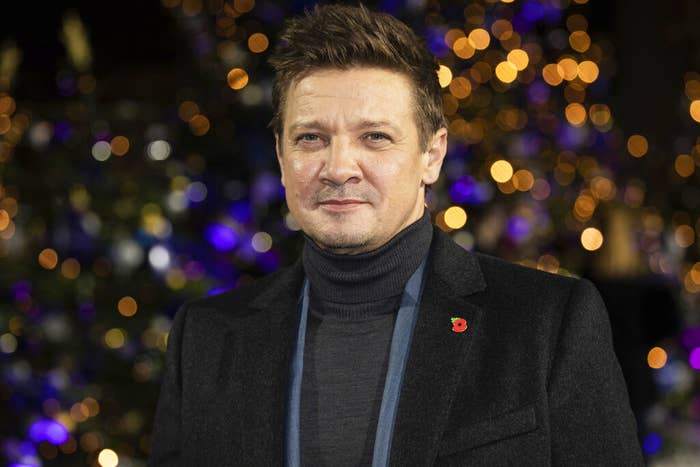 Hawkeye actor Jeremy Renner is in critical but stable condition and being treated for injuries after a snowplowing incident, according to his representative.
"Jeremy has suffered blunt chest trauma and orthopedic injuries and has undergone surgery today, January 2nd, 2023," Renner's representative said in a statement sent to BuzzFeed News on Monday evening. "He has returned from surgery and remains in the intensive care unit in critical but stable condition."
Earlier on Monday, Renner's representative confirmed to NBC News that the Avengers actor was hospitalized and in "critical but stable condition," with "injuries suffered after experiencing a weather-related accident while plowing snow earlier today."
"His family is with him, and he is receiving excellent care," the representative added.
In a press release, the Washoe County Sheriff's Office said that at approximately 9 a.m. on Jan. 1, officers responded to a traumatic injury in Reno, Nevada, where Renner reportedly has a home.
When they arrived, officers arranged medical transportation for Renner and flew him to a local hospital. The sheriff's office confirmed that Renner was the only person involved in the incident and that the Washoe County Sheriff's Office Major Accident Investigation Team is currently looking into the circumstances surrounding it.
Renner, 51, is well known for his role as Hawkeye in the Avengers series and has twice been nominated for an Academy Award.
"Jeremy's family would like to express their gratitude to the incredible doctors and nurses looking after him, Truckee Meadows Fire and Rescue, Washoe County Sheriff, Reno City Mayor Hillary Schieve, and the Carano and Murdock families," Renner's representative said in a statement to BuzzFeed News. "They are also tremendously overwhelmed and appreciative of the outpouring of love and support from his fans."