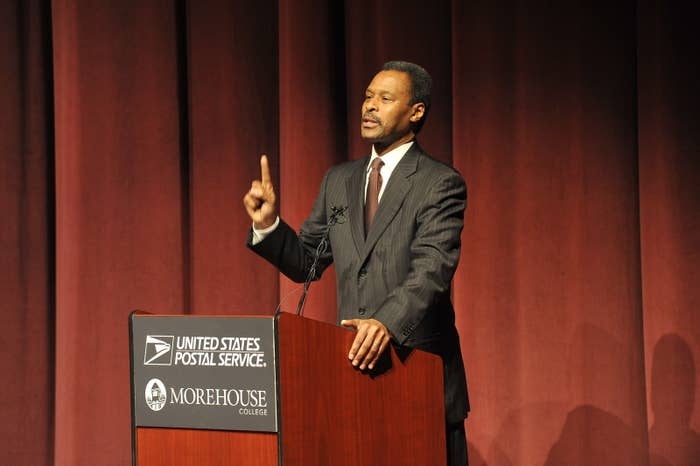 Morehouse College is investigating anonymous reports made on Twitter that some of its students allegedly gang raped a woman from Spelman College, President John Silvanus Wilson, Jr. said in a statement Wednesday night.
The historically black, all-male institution came under fire Tuesday after a Twitter user who identified herself as a student at Spelman — the historically-black, all-female institution and Morehouse's unofficial sister school — posted a series of tweets saying four Morehouse students raped her in a bathroom during a party.
The woman, who shared her story under the handle "Raped At Spelman," did not identify herself, the Morehouse students, or where the assault took place. She said that after she reported the incident to Spelman and went to the hospital for a rape kit, the college's department of public safety and dean ultimately encouraged her to let it go given Spelman and Morehouse's close relationship.
The tweets sent shockwaves throughout the colleges' wider network, the Atlanta University Center Consortium, prompting two widely shared hashtags — #RapedByMorehouse and #RapedAtSpelman — and protests on both campuses on Tuesday.

In a statement released Tuesday, Morehouse stated the college would investigate the allegations once they were formally reported. "The allegations are quite serious and Morehouse openly welcomes the reporting of any such allegation for a full and swift investigation," the statement read.
Wednesday's statement from President Wilson said that the college has now launched a full investigation into the allegations. "Both our Office of Campus Safety and the Title IX Office have been activated to fully investigate the allegations with the limited information that we have," Wilson wrote. "The information anonymously shared on Twitter was our very first indication of this incident. Now that we are aware of these allegations, we are determined to pursue the investigation to the fullest extent possible."
The statement did not say whether someone had come forward to report the rape. Morehouse did not immediately respond to a request for comment on how the decision to investigate the allegations was made.
In a previous statement to BuzzFeed News, Spelman President Mary Schmidt Campbell said the college "is conducting a full and thorough review of these events."
Both Spelman and Morehouse are currently under federal investigation by the Department of Education for possible violations to Title IX, the federal law that prohibits sex discrimination in education. In January, BuzzFeed News detailed the experiences of two Spelman students assaulted by Morehouse students who encountered obstacles reporting sexual assaults to authorities on both campuses. In the wake of the article, both colleges announced changes to their sexual assault policies and initiatives.