Wikipedia Edits Appear To Tie Chris McDaniel Campaign To Break-In Conspirator
Twenty minutes after a campaign staffer got busted for fluffy edits on McDaniel's page, one of the men arrested in the nursing home case appears to have created an account and started editing.
One of the alleged conspirators in the case surrounding the break-in and photographing of incumbent Mississippi Sen. Thad Cochran's bedridden wife in her nursing home appears to have coordinated with a member of Cochran-challenger Chris McDaniel's staff to airbrush his Wikipedia page in early April.
Keith Plunkett, who serves as the policy director for McDaniel's campaign, was caught making extensive edits to McDaniel's Wikipedia page, drawing a rebuke from administrators of the online encyclopedia.
Less than 20 minutes after Wikipedia administrators told Plunkett not to edit McDaniel's page or share his Wikipedia account, another account was created that also edited McDaniel's page. The second account appeared to belong to Richard Sager, who was later arrested in connection with the nursing home case. Sager was arrested and charged with felony tampering with evidence last month.
Sager is a Laurel elementary school P.E. teacher and high school soccer coach whose apparent username "Soccercoachlhs" matched his Twitter account handle.
Plunkett, the campaign official, went by the username "Sippydog," which also serves as Plunkett's username on Instagram as well as Flickr. He also goes by the username "SippyDawg" on YouTube.
Plunkett's extensive edits to Wikipedia were caught by two Wikipedia administrators, with Plunkett admitting after a Wikipedia administrator Googled his username to find his ties McDaniel campaign, "I am certainly not unbiased."
An administrator of Wikipedia then told Plunkett not to share his Wikipedia account, saying it was against the site's rules after Plunkett said, "We are merely updating Senator McDaniel's bio material here."
Less than 20 minutes after Plunkett was told not to share his account, Sager's apparent account "Soccercoachlhs" was created and began editing McDaniel's page.
BuzzFeed reached out to Sager, Plunkett, and to the McDaniel campaign. Sager and Plunkett were not immediately available for comment, while a McDaniel spokesman was dismissive of BuzzFeed's inquiries, asking if BuzzFeed was looking for "guys in their underwear" in reference to Wikipedia editors.
Between April 6 and April 9 of this year, Wikipedia user "Sippydog" attempted to make 37 edits to Chris McDaniel's Wikipedia. Sippydog's edits were extensive and either added fluffy information about McDaniel or deleted unflattering text.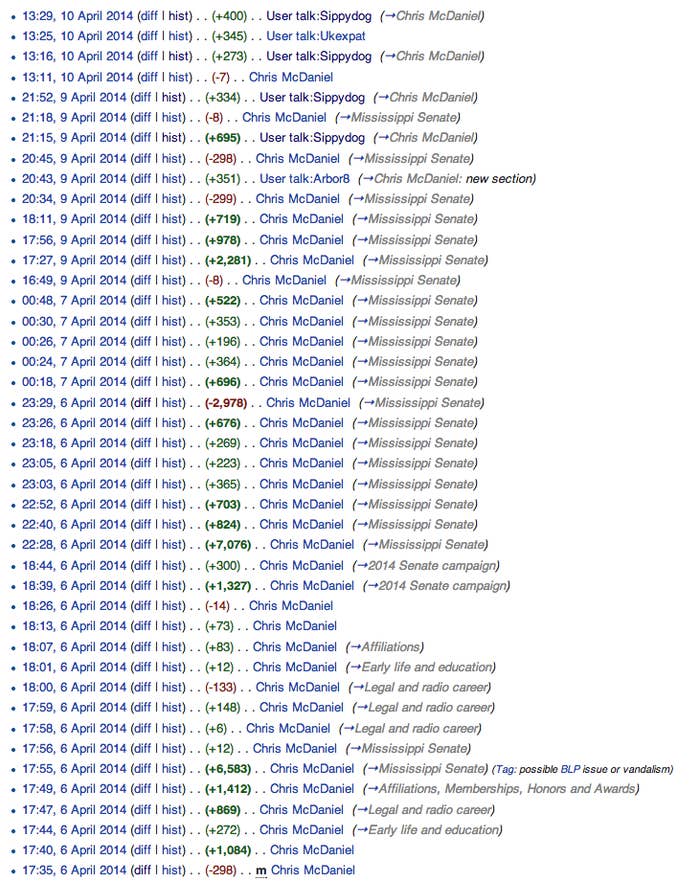 Here's an example of one edit by Sippydog, adding McDaniel's "legislative successes" to his page.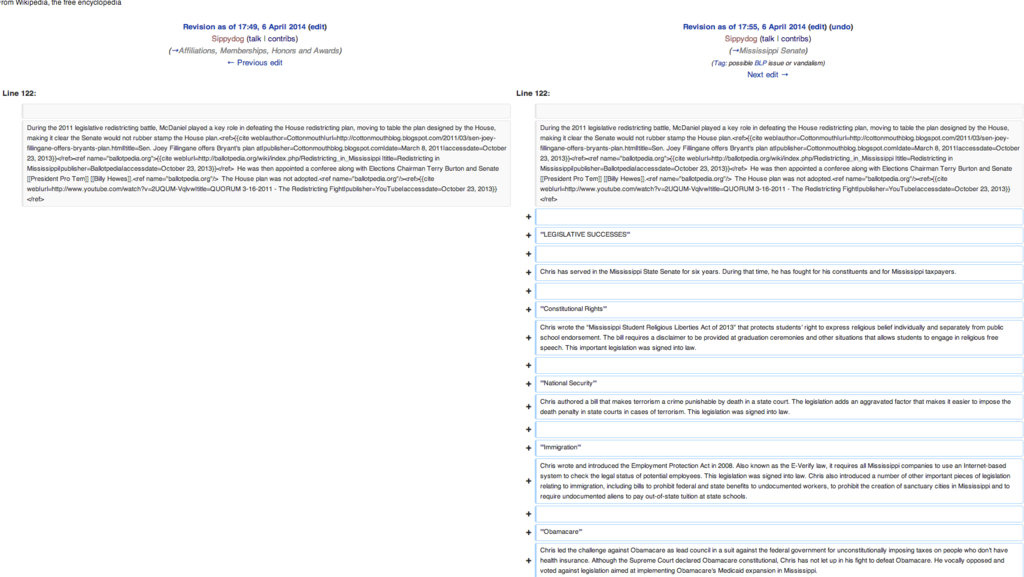 A Google search of some of the issues brings up both Plunkett's Wordpress article "31 Solid Reasons to Vote for Chris McDaniel" and McDaniel's biography on his Senate page.
"Sippydog" is Plunkett's username on Instagram as well as Flickr. He also goes by the username "SippyDawg" on YouTube.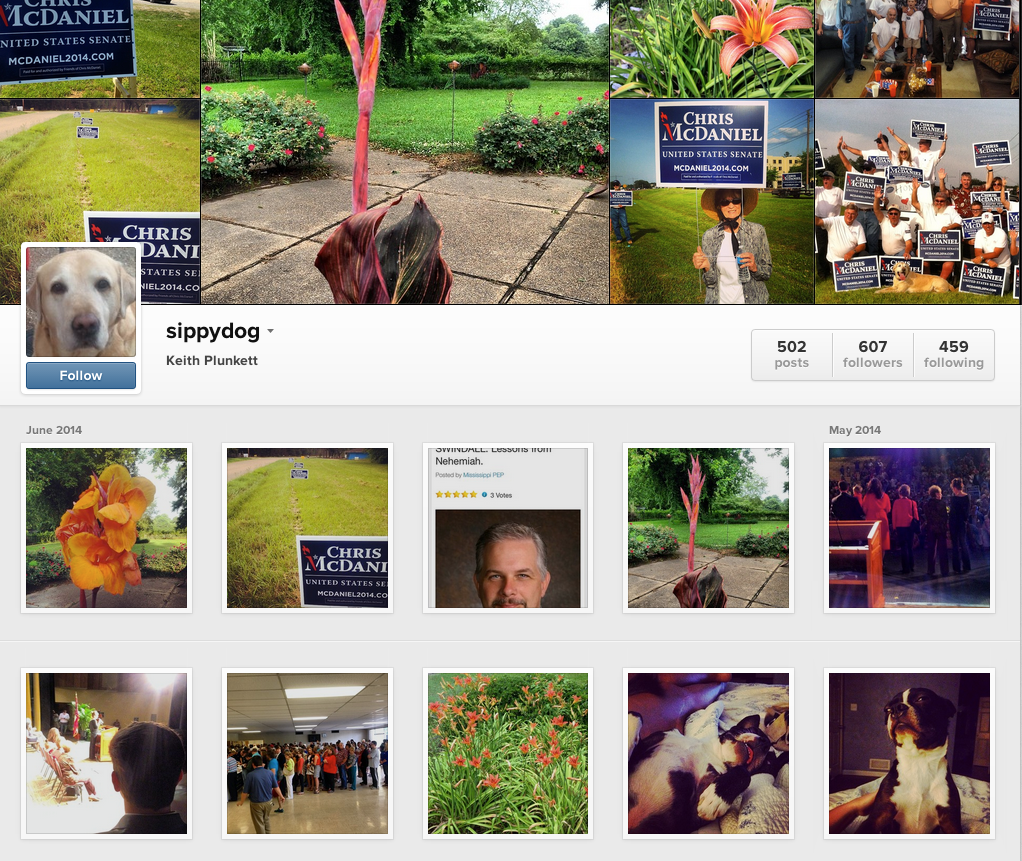 A Wikipedia talk page is a page that editors can use to discuss with each other Wikipedia policy or improvements to articles. Every article and user on Wikipedia has a talk page.
Plunkett's editing drew the ire of a Wikipedia administrator named "Arbor8," who repeatedly told Plunkett on his talk page to either cite sources, or do original research. Arbor8 also did a Google search to find that Plunkett worked for McDaniel.
"Hello, Sippydog, and welcome to Wikipedia! Thank you for your contributions. I hope you like the place and decide to stay," wrote Arbor8 on Sippydog's talk page. "Unfortunately, your edit to Chris McDaniel does not conform to Wikipedia's Neutral Point of View policy (NPOV). Wikipedia articles should refer only to facts and interpretations that have been stated in print or on reputable websites or other forms of media."
Plunkett continued to edit without responding to his talkpage and another comment was left.
"Please do not add commentary or your own personal analysis to Wikipedia articles, as you did to Chris McDaniel. Doing so violates Wikipedia's neutral point of view policy and breaches the formal tone expected in an encyclopedia. Thank you," Arbor8 wrote again.
Finally, Arbor8 did a Google search to find Plunkett worked for McDaniel. This comment would from the Wikipedia administrator draw a response.
"I appreciate that you are editing in good faith, but there are a number of problems with your edits beyond words like 'important legislation' and 'accomplishments.' For example, decisions about what information to include and to exclude can lead to undue weight problems or coatracking," wrote Arbor8. "Additionally, most of the sources you cite either constitute original research, which is not permitted on Wikipedia, or are otherwise not reliable sources. What concerns me most, though, is that a basic Google search reveals that you have a pretty clear conflict of interest with this subject. So I think the best course for now would be for you find a place on Wikipedia to contribute where you don't have such a conflict. Some helpful resources are linked in my welcome template above."
Plunkett admitted in his response he is "certainly not unbiased" but defended his work.
"The majority of sources I used are actual links to the specific legislation at the Mississippi Legislative website. As to my 'conflict of interest' I am certainly not unbiased, but all the information I have posted is factual and I removed the problematic descriptive language. Does this mean I have no ability to post anything on the subject matter? It would seem this defeats the purpose entirely. As to the reference to 'coatracking' (I had to look that one up, thanks. I'm learning) The referenced information is factual and is a list of Senator McDaniel's work in the topic area. If someone has an alternative fact they wish to publish, isn't that the way open source works? Thanks again."
"This is becoming tiresome. The content you are adding and re-adding is promotional puffery and is decidedly unencylopedic," wrote back Arbor8.
"I'm sorry to disagree, and I'm sorry you feel it is tiresome. But this is material that is properly attributed to a legitimate government source. It is not 'puffery'. The introduction of these specific bills have been debated in the Mississippi State Senate and/or have become law in Mississippi. They are a matter of public record," responded Plunkett.
"Just because something is true is not sufficient reason to include in Wikipedia," Arbor8 responded.
Another Wikipedia adminstrator then got involved, mentioning Plunkett's conflict of interest.

Plunkett then said he would get more unbiased sources. The Wikipedia administrator said Plinkett would have to discuss changes on the site's talk page. After he used "we" to mention editing, the administrator told him he could not share his account.
"Thank you. I have gone to a more unbiased source and asked for a friendly edit to be sure my additions don't inadvertently do any of that. I have added nothing re: the opponent in the senate race. We are merely updating Senator McDaniel's bio material here. Thanks Again," wrote Plunkett.
"Please use the article's talk page to discuss your proposed additions to the article with other users. And who is 'we' - if you are sharing your account, please note that that is not permitted, " responded Wikipedia administrator ukexpat.
"Oh no. I haven't shared it. I meant it as a general term. I have talked about these edits quite a bit. all of the info is properly cited and is a matter of public record. It's encyclopedic in nature as it lists the person work history. I've had others look over it prior to posting to make sure it isn't misleading. The only thing left is that their is an objection to my posting it," Plunkett wrote back.
This would be Plunkett's last engaging with Wikipedia editors at 1:22 p.m. on April 10, 2013.
This is where it gets strange. Less than 20 minutes later user "soccercoachlhs" was created and started editing McDaniel's page.
"Soccercoachlhs" is also the name of the Twitter account of Rick Sager.
Sager was the Laurel, Mississippi, elementary school P.E. teacher and high school soccer coach charged with felony tampering with evidence in a case surrounding a blogger and McDaniel supporter photographing Cochran's bedridden wife.
"Soccercoachlhs" made two edits to McDaniel's page before his account was shut down as part of a Wikipedia investigation into coordinated fluffy edits to McDaniel's page.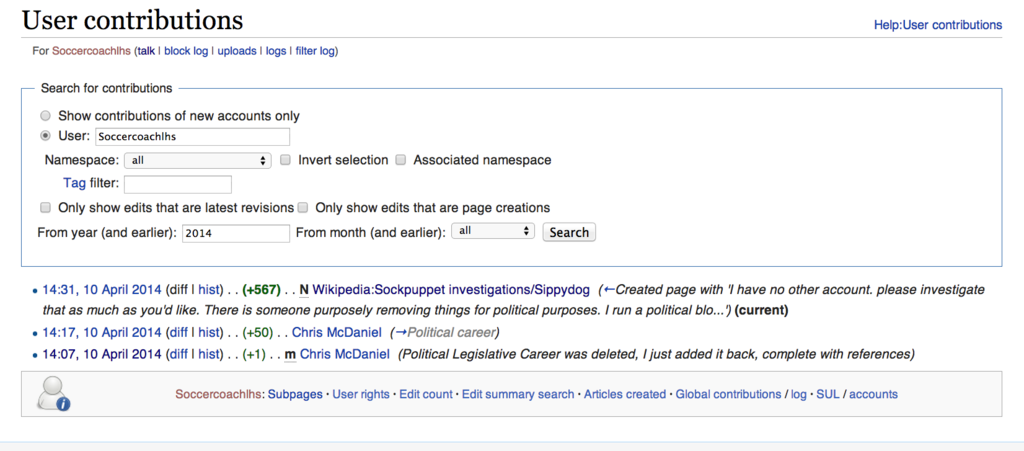 "Soccercoachlhs" said he had not coordinated with "Sippydog" despite his page being created almost immediately after SippyDog was told not to share his account.

The McDaniel campaign has repeatedly denied being involved with the photographing of Cochran's wife by political blogger Clayton Kelly.
Gideon Resnick is a political reporter at BuzzFeed. His work has appeared in VICE, the Atlantic and the Daily Beast.