White House Withholding Judgement On Damning UN Report On Drones Strikes In Pakistan
Report finds the U.S. has violated Pakistan's sovereignty with drone strikes.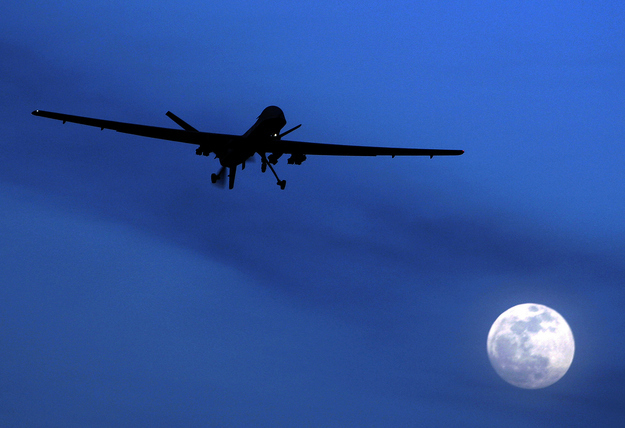 The Obama administration is remaining mum on a new U.N. report that accuses the United States of violating Parkistan's sovereignty with its use of drones.
"The position of the government of Pakistan is quite clear. It does not consent to the use of drones by the United States on its territory and it considers this to be a violation of Pakistan's sovereignty and territorial integrity," said Ben Emmerson, British U.N. special rapporteur on counter-terrorism, after a three-day visit to Pakistan's capital.
The White House has yet to take a position on the report, saying they are "aware of Mr. Emmerson's report," but did not have a "specific comment" on the matter according to deputy press secretary Josh Earnest, who was speaking to reporters in a press gaggle on Air Force One.
Asked specifically if it was the United States' position that they are not violating Pakistan's sovereignty, Earnest demurred.
"I want to withhold judgment on the actual report in terms of the claims that they're making," Ernest said.
The full exchange from the gaggle regarding drones is below:
Q: Can I ask you about -- the U.N. has a report out about drones in Pakistan, saying both that we are -- the U.S. is violating the sovereignty of the Pakistani government, and that the civilian casualty rate is far too high. Do you have a reaction to that?

MR. EARNEST: I can tell you that our administration is aware of Mr. Emmerson's report. But at this point, I don't have a specific comment on either intelligence operations or any military operations.

As you know, this administration is in regular and close contact with Pakistan. We have a solid working relationship with them on a range of issues, including a close cooperative security relationship. And we're in touch with them on a regular basis on those issues, particularly the ones that relate to security.

At this point, we're going to withhold judgment on the actual report. But we're in touch with Mr. Emmerson, and if there are requests for information that are made of the administration, then we'll carefully consider those requests.

Q: But it's the U.S. position that we are not violating the sovereignty of Pakistan, is that right?

MR. EARNEST: Again, I want to withhold judgment on the actual report in terms of the claims that they're making. I just want to leave it -- reiterating for you that we do have an open, ongoing dialogue with Pakistan on a whole range of issues, and including a close, cooperative security relationship.