When Mitt Romney Broke Rank On The Bush Tax Cuts
The presumptive Republican nominee wouldn't endorse President Bush's tax cut plan in 2003. He's since gotten on board with the GOP orthodoxy.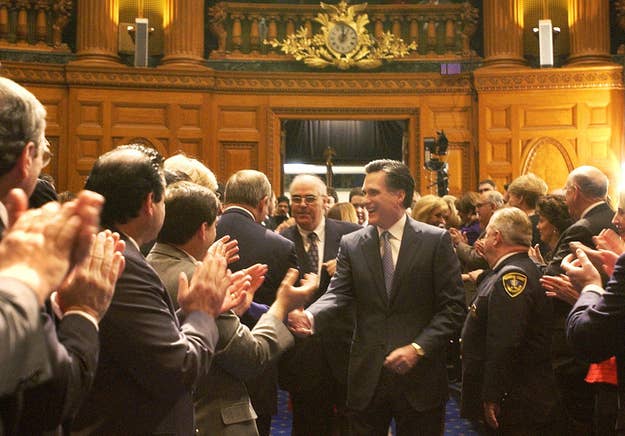 Preserving the deep "Bush tax cuts" enacted in 2001 and 2003 has become a plank of contemporary Republican politics. But as the Governor of Massachusetts, presumptive Republican Presidential nominee Mitt Romney wasn't the devotee to lowering taxes he is today.
Romney's first break with his party on the issue of taxes came in 2002 during his run for gubernatorial run. Romney, although he had promised to not raise taxes, refused to sign a pledge on the matter. A spokesman referred to pledges as "government by gimmickry." Although Romney's refusal might seem heretical today, it was 2002; he was a moderate, and running for Governor of Massachusetts. No one seemed to mind or pay it much notice.
After Romney was elected Governor, he met with the Massachusetts Congressional delegation, all Democrats, and refused to take a position on President Bush's second wave of massive tax cuts.
Massachusetts's lawmakers told Romney that the state was likely to miss out on additional homeland security funds they were going to request, because the money was going to be used to pay for Bush's plan.
Some at the meeting were pleased that Romney declined to endorse the plan, among those outspoken liberal Congressman Barney Frank.
"I was very pleased," Frank said in 2003. "Here you have a freshman governor refusing to endorse a tax cut presented by a Republican president at the height of his wartime popularity.
One observer at the event noted Romney said he refused to "be a cheerleader" for a tax cut plan he doesn't agree with, but that he wouldn't speak out against it because he had "to keep a solid relationship with the White House."
But Romney's refusal to endorse the plan came back to haunt him in 2007 during his first failed run for the White House. Running on considerably more conservative platform than in 2002, Romney was accused of doubletalk for attacking John McCain for not supporting the tax cut plan as a Senator.
Romney argued that his refusal to take a position on the issue stemmed from his ardent federalism. He told a voter in New Hampshire, that he simply didn't have a vote on the matter.
"You see, I wasn't a U.S. senator. I didn't have to vote on this, didn't get a choice to. I was running my state, so I didn't have a comment on their position. And I said, `I'm not weighing in on federal issues,'" Romney said.
"But Senator McCain was a senator. He had to vote. He had to decide, `Am I in favor of pursuing these tax cuts or not?' and he voted against the tax cuts — twice. That's a very different position," he continued.
Romney's decision to attack McCain on the issue ultimately played into the narrative that was his downfall in 2008. Becoming one more issue his opponents could accuse him of flip-flopping and chameleon politics, it became part of the picture that has dogged him since.