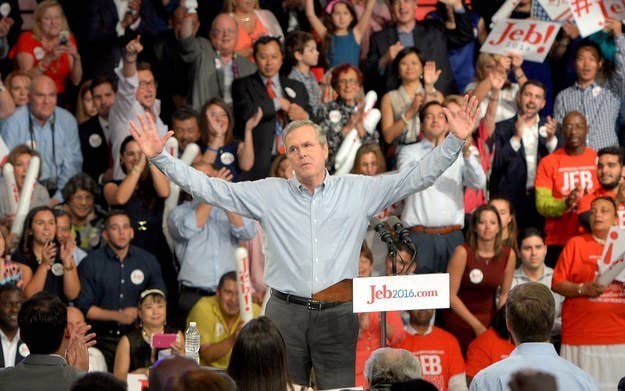 The super PAC tied to Republican presidential candidate and former governor of Florida Jeb Bush has raised $17 million so far in the New York area alone, according to a conference call between the super PAC officials and donors on Wednesday.
Mike Murphy, the longtime Jeb Bush confidant and consultant who is heading the Right to Rise super PAC, told a group of donors on a conference call Wednesday that they had so far raised $17 million in the tri-state area to support Bush's campaign for the presidency.
Telling the donors on the call they were "killers" who he was going to "set loose," Murphy said the number the super PAC would be filing by the next July reporting deadline would give opponents "heart attacks" and discourage their rivals' donors from opening their wallets.
"We set out six months ago with the goal of just under $19 million or so in the tri-state area, and are obviously happy to report that, thanks to you on the call, we raised just north of $17 million," Mason Fink, the finance director for the super PAC, told those on the donor call.
An anonymous person close to the super PAC told Politico they were likely to raise more than $100 million by July; people close to the operation then told the Washington Post this was unlikely to happen.
"This organization is going to break records with what's happened in the last six or seven months," Murphy added. "You guys get the credit. It's been an incredible, terrific effort."
"So I can tell you, we are excited," Murphy continued. "And, just keep doing what you're doing. And I keep coming back to this pitch, because, like any ad guy, I believe in repetition: Any extra buck you can give before June 30 is a weapon for us, in that report when we give some heart attacks to people in July. It'll effect some of their decisions, it'll bum out their donors, and it'll hurt their money, which cuts off their oxygen, and frankly we want to choke 'em all out. So, um, you're killers — I'm gonna turn you guys loose to that mission."
Murphy said he thought Bush had gotten "a wonderful press boost" from the announcement but had previously been getting some "rocky process press, which is kind of the business of the insider world." Murphy added the announcement was "a day one home run."
"I predict that six or seven days from now we'll see a lift in the polls," Murphy said, adding that early polls were meaningless.
"We are very, very focused on the next two weeks," Murphy said. "That's because the report, as you all know, will become public in July for what we've raised until the end of June. We want to weaponize our number. The press has set a very high expectation, much higher than we would have set for ourselves, but that's the way it works. So we want to hit the biggest possible number for the super PAC."
"So any marginal dollars we've raised in the next 10 days, really have a leveraged effect, a multiplier effect, because the impact when our report comes out will be compared to others and we want to maximize our crushing advantage there as a sign of strength," he continued.
Murphy noted that he "can't coordinate any more" with the campaign, but said he was "well informed as of a week ago."
Murphy said Bush's message would focus on three things: how to "make this country an economic superpower again"; that Bush wants "blow up the machine in Washington"; and "the world is more chaotic than ever, we need an experienced president, who's had the life training to make our country safer, in a world that's become more unstable."
Murphy said the campaign was "really trying to get a lot of retail done in the summer period." He said that Bush would do "a pretty aggressive mix" of retail and fundraising, but "we can't lose those retail days, particularly in New Hampshire."
"The summer is where you start to really plant your grip on the state," Murphy told the donors on the call, even though "it doesn't pay off until the end of the year."
"We at the super PAC know the power of cash," Murphy said. "Some of you down in Miami when I did that presentation — we're very much into husbanding our cash until the end of the year, to be able to really have muscle in the first quarter. That said, we're going to do a few frugal, highly targeted things to help boost the governor's narrative over the summer, to support his travels."
Murphy also said the super PAC would focus on positive messaging.
"One of the neat things about Right to Rise, and one of the new ideas that, you know, the governor had — he's such an innovator — is we're going to be the first super PAC to really be able to do just positive advertising, to tell his story, which is the missing ingredient right now," Murphy said. "And we have the dollars, thanks to you guys, and we actually were able to do some filming before the wall went down, so we can do excellent creative. We have some incredible stuff in the can that we shot with the governor. So we're going to be able to — starting with digital, but expanding to advertising — start to tell that story, to amplify his [inaudible] this summer and particularly right afterward."
He added a website was going up for the super PAC "probably Friday."