Virginia Democratic Party Belittles Republican Candidate For Praying For End To Shutdown
Democratic official mocks E.W. Jackson for saying "divine intervention" is needed to bring compromise in Washington.
The Virginia Democratic Party often goes after Virginia Lt. Governor candidate E.W. Jackson for his history of controversial statements. But the Democrats' latest knock on Jackson, a pastor, seems to be only that he asked for God's help in solving the government shutdown on Capitol Hill.
On Thursday night, Virginia Democratic Party spokeswoman Ashley Bauman blasted out an e-mail to reporters titled, "Jackson calls for 'divine intervention' in budget crisis."
"Good evening -- I wanted to make sure you saw the latest E.W. Jackson comments from earlier today," Bauman wrote. What followed was a blog item from the Times-Dispatch newspaper reporting that Jackson said "divine intervention" was needed to bring Democrats and Republicans together to reach an agreement to end the government shutdown.
From the Times Dispatch article:
E.W. Jackson, the Republican candidate for lieutenant governor, today resorted to prayer as a way to end the ongoing government shutdown. "It could possibly not get any worse, and we need some sort of divine intervention to bring folks together," Jackson said during a Q&A session at Patrick Henry College, a private, independent college with a conservative evangelical Christian focus, in Purcellville this afternoon.
Campaign and party spokespeople typically e-mail reporters "ICYMI" articles such as this one to flag controversial comments from opponents in hopes that the press will further publicize them.
In a tweet of the article, Virginia Democratic Party communications director mocked Jackson's comment: "That's... original RT @MSchmidtRTD: @JacksonForLG calls for "divine intervention" to end budget stand-off http://bit.ly/1hoj6Wn #vagov."
A spokesperson for the Virginia Democratic Party told BuzzFeed in a statement:""The issue the Democratic Party of Virginia takes with this statement is with E.W. Jackson's suggestion that ending this shutdown requires anything but John Boehner, Ted Cruz and the Republicans putting the country ahead of their extreme agenda. As Republicans across Virginia and the nation call on their fellow party members in congress to stop holding our economy hostage to Tea Party politics, it's time for E.W. Jackson to stand up and do the same."
A 2011 poll conducted by Roanoke College found that 94% of Virginians say they believe in God, an 80% say they pray daily.
The Virginia Democratic Party's email: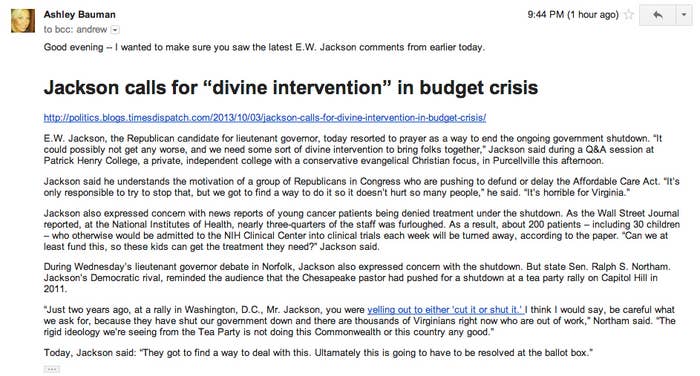 Communications Director Brian Coy's tweet: