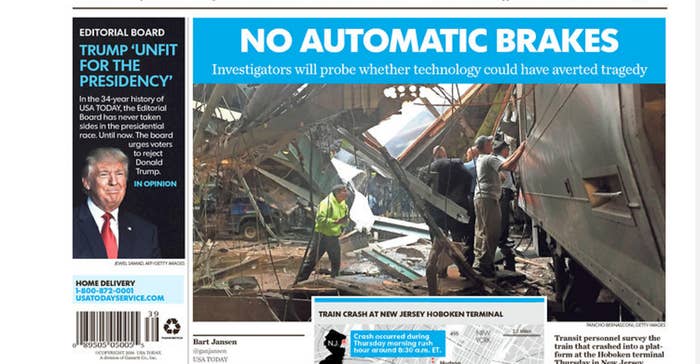 Guests at several of Republican nominee Donald Trump's hotels woke up to a complimentary copy of USA Today's blistering editorial that concluded Trump was "unfit" to be president.
The newspaper's editorial board weighed in on the presidential race for the first time in its history — declaring Trump "unfit for the presidency" by "unanimous consensus."
Representatives for four Trump-branded hotels — Trump International Hotel & Tower in New York, Trump International Hotel & Tower Chicago, Trump International Hotel in Washington, DC, and Trump Doral in Miami — told BuzzFeed News that guests are provided a complimentary copy of the paper. The front page of Friday's edition featured a tease of the editorial, with the headline "TRUMP UNFIT FOR THE PRESIDENCY."

At two properties, Trump Waikiki in Hawaii and Trump International Hotel Las Vegas, the newspaper is sold at the property in the hotel shop. A representative for Trump SoHo said they offered a copy for a fee.
In Canada, guests at the Trump International Hotel and Tower in Toronto can get a complimentary copy.
In response to the editorial, Trump tweeted Friday morning: "The people are really smart in cancelling subscriptions to the Dallas & Arizona papers & now USA Today will lose readers! The people get it!"