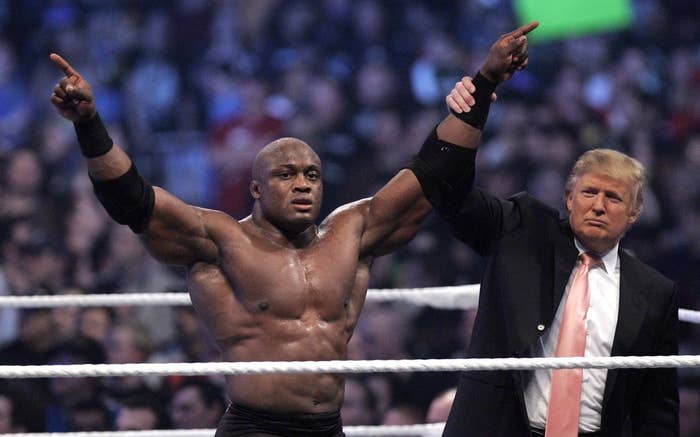 Since launching his presidential campaign in June, Donald Trump's Republican rivals have attempted to label the real estate mogul as divisive, inflammatory, and on the fringe.
During his flirtation in 1999 with a run for White House as a member of the Reform Party, however, Trump was on the opposite end of similar criticisms, targeting former-Republican turned Reform Party candidate Pat Buchanan as too controversial to be elected.
Trump mentions Buchanan more than 30 times in his 1999 campaign book, The America We Deserve.
"Pat Buchanan has been a columnist required to churn out unconventional and newsworthy views on a weekly basis," wrote Trump. "Only late in his life did he decide to shift to electoral politics and seek the presidency. Simply put, Pat Buchanan has written too many inflammatory, outrageous, and controversial things to ever be elected president."
"Buchanan's candidacy began unraveling immediately after his New Hampshire successes as voters began to focus on his outlandish opinions," added The Donald of Buchanan's past presidential run.
Buchanan's platform that year included a number of planks similar to Trump's today: a trade protectionist attitude, anti-illegal immigration, isolationism, and anti-Washington corruption.
Trump further added that Buchanan's views were "extremist," he was a member of the "lunatic fringe" and his own Reform Party flirtation was a direct result of this.
"Buchanan's extremist views have to be challenged by someone," wrote Trump. "A number of circumstances have conspired to conceal the fact that Buchanan is close to the lunatic fringe. His strong showing against George Bush in 1992 seemed to make him a mainstream candidate. But this primary came at a time of extreme economic dislocation and was a direct result of the perception that George Bush could not fathom the difficulties working people were encountering in a cooling economy."
Trump labeled Buchanan's views "prehistoric" to the Associated Press that year.
Buchanan left the Republican Party in 1999 and would go on to be the Reform Party's 2000 presidential nominee. The party also welcomed former Ku Klux Klan member David Duke.
Trump rejected the party for these additions.
"The Reform Party now includes a Klansman, Mr. Duke, a neo-Nazi, Mr. Buchanan, and a communist, Ms. Fulani," Trump said in a statement on why he would not run at the time. "This is not company I wish to keep."
Today, both Buchanan and Duke are supportive of Trump's presidential bid.
Duke, the prominent former klansmen and anti-semite labeled Trump, "certainly the best of the lot," running for president.
Meanwhile, Buchanan has spoken positively of Trump's agenda and has even labeled him the most likely candidate to win the nomination.
"I would bet on him for the nomination," Buchanan said in July.
Buchanan called Trump's immigration proposal "the most comprehensive program any Republican has put out yet," on McLaughlin Group in August.
"I think Trump has really got the bit in his teeth, and it's helping his campaign, and people are emulating him," added Buchanan.