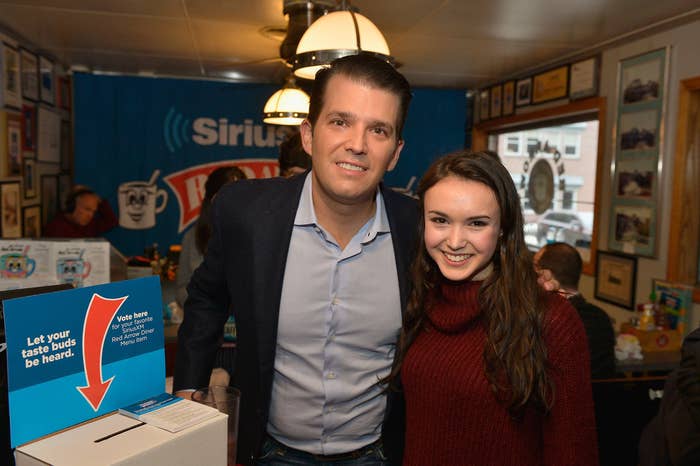 Donald Trump Jr. says his father's degrading comments towards women on the Howard Stern Show were not misogynistic, but just jokes his father was sharing with a friend.
BuzzFeed News reviewed hours of audio of Trump on Stern's program. In several appearances, the businessman ranked, rate, and degraded women, notably Princess Diana and the cast of Desperate Housewives.
"People talk, 'oh your father's a misogynist look what he said about women,' like, on Howard Stern. When he gets with Howard Stern, who's a friend of his, he'll joke around, because it's a comedy show," Trump Jr. told Kilmeade and Friends. "He's allowed to have a personality. He will."
To counter claims his father was a sexist, Trump Jr. cited his dad hiring a woman to head up construction of Trump Tower.
"My father in 1982, Trump Tower, the head of construction was a woman, in 1982," said Trump Jr.
That woman, Barbara Res, wrote a column for the New York Daily News titled "Donald Trump, my boss: The billionaire developer gave women like me a chance, but he also leered at attractive employees and only let the prettiest secretaries greet guests and serve coffee."
In her op-ed, Res made the case Trump would hire women over men if merit required it, but noted Trump denigrated women, even in front of her.
"He leered at attractive female employees," she wrote. "Yet I would call him more of a womanizer than a sexist, sort of like Bill Clinton. Trump says he loves women and I suspect he does, in his own way. But his public denigration of women and his association with objectifying activities like Playboy and pageants have the overall effect of blunting any assertion that he is not sexist, regardless of how many women Trump has hired."