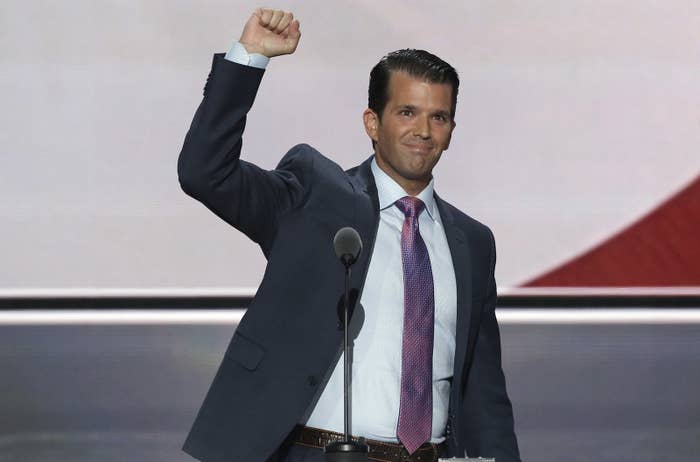 Donald Trump's campaign has, in recent days, attempted to distance the Republican nominee from what was once his hallmark issue: casting doubt on President Obama's citizenship and his legitimacy to serve in the nation's highest office.
Trump's campaign manager Kellyanne Conway told CNN on Friday that Trump "believes President Obama was born here." Trump has never publicly taken back his conspiracy theory and recently told reporters he just didn't discuss it anymore.
However in a 2014 interview with Trump biographer Michael D'Antonio, Trump's son, Donald Trump Jr., offered a glimpse into just how deeply held his father's doubts about Obama's citizenship were — praising his father's "moral conviction" for raising the question in the face of very public criticism.
Asked by D'Antonio about his father's birtherism, Trump Jr. responded, "Don't we want politicians to have strong opinions about things that aren't swayed by public opinion?"
"The problem is that everyone's trying to appease everyone, with 300 million people and every little opinion, and God forbid we offend the one person of the 300 million, and I don't know how you make a decision," Trump Jr. added.
The interview took place for D'Antonio's book, The Truth About Trump. D'Antonio provided BuzzFeed News with a transcript of his exchange.
"I appreciate someone who has the moral conviction to stand by a belief, or even question it," Trump Jr. continued. "What's wrong with questioning something these days? Whether it be political spectrum, across a racial divide, it's increasingly difficult for – and this is coming from, I'm the white privileged son of a rich guy — there is a point where I'm not even allowed to have this conversation in America today, which again, I can have it, but it's a no-win proposition for me."
Trump Jr. said his dad didn't care what polling showed.
"For someone like him, who knows no matter what he said he's going to be criticized, to actually come out there and to utilize his very powerful soap box and to take a stance or to question a position — he very clearly could understand in certain circumstances maybe, 'hey, that's not where polling numbers are showing things are going. I don't care! Because I've gotta still question…' Who's wrong in that?"
Asked if his father cared about what people thought, he said he found it admirable and powerful he withered negative public opinion.
"He will be out there, and he will question these things in a way that you don't see anyone doing today," he said. "Or certainly not anyone that has a brand, that has – there could be potentially ramifications to his business for taking these stances. And again, he's got the conviction to say, 'That's fine. I don't care. This is what I believe in.' And to me, as an American, that's a very powerful thing. That's a very admirable quality."