There Is Almost Nothing Charlie Crist Hasn't Flip-Flopped On
The Democratic candidate for Florida governor has changed his mind about a lot of things.
At the Miami Herald, Marc Caputo has a review of former-Republican-turned-Independent-turned-Democrat Charlie Crist's new book The Party's Over: How the Extreme Right Hijacked the GOP and I Became a Democrat. Caputo notes the book serves as both a 2014 gubernatorial campaign manifesto and an autobiography of Crist's switch from Republican to Democrat, notably skipping over some history for his shift.
Crist has taken a lot of positions over the years on issues. Here are 10 of his biggest flip-flops.
1.
In a 1998 Senate debate, as a Republican, he said he thinks abortion is a personal issue and not a government issue. He later on adds he does support a partial-birth abortion ban.
As attorney general of Florida and a gubernatorial candidate in 2006, Crist said he would sign a bill that would ban abortion in Florida except in cases of rape and incest.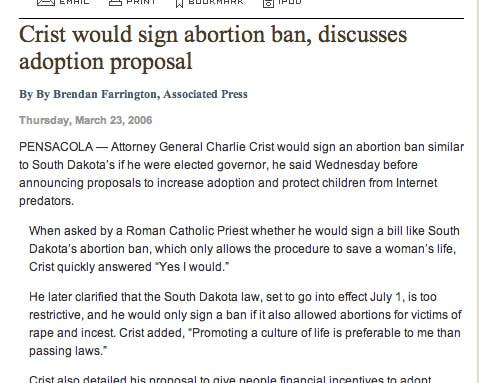 On his 2006 "on the issues" page, Crist says we should do more to "Promote a Culture of Life at every stage of life."

On his 2014 gubernatorial page, Crist now says he supported "a woman's right to control her own body" as governor.

2.
Here's Charlie Crist at a 2006 gubernatorial debate saying he supports civil unions but not same-sex marriage.
Here's a page from Crist's 2006 "on the issues" page during his first run for governor saying he wants to do more to "Protect Marriage."

Yet in 2008, Crist supported Proposition 2, which banned civil unions in Florida, saying on Election Day, "I voted for it...it's what I believe in."
Proposition 2 stated: "This amendment protects marriage as the legal union of only one man and one woman as husband and wife and provides that no other legal union that is treated as marriage or the substantial equivalent thereof shall be valid or recognized."
Crist now supports marriage equality and has said his past oppositions were politically motivated. He apologized, saying, "I'm sorry I did that. It was a mistake. I was wrong. Please forgive me."
3.
At a 1998 debate when Crist first ran for Senate, he said he supported Second Amendment rights and was not in favor of strict gun control. It's a position he held throughout his political career as a Republican.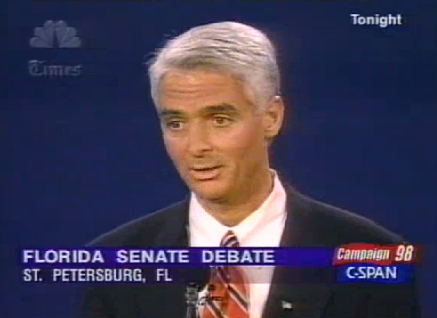 Here's Crist promoting the NRA's endorsement on a 2006 survey.

Crist now says we need more gun control, including an assault weapon ban, a limit on the size of ammunition clips, and a tougher background check system.
4.
Here's Charlie Crist saying at a 2006 gubernatorial debate he doesn't support adoption by same-sex couples.
When Florida's three-decade-long gay adoption ban was ruled unconstitutional, Crist called it a "very good ruling." Crist also said it was "a great day for children. Children deserve a loving home."
5.
In a 1998 Senate debate, Crist said he supported abolishing the IRS in favor of a national sales tax or flat tax. Advocating lower taxes was a position he followed throughout the rest of his campaigns, signing the ATF pledge to not raise taxes in 2005.
Crist now admits he both raised taxes as governor and would do so again if reelected as needed.
6.
On a 2006 survey, Crist said he "does not support including sexual orientation within anti-discrimination laws."

In 2010, Crist said, "I support strong anti-discrimination laws including ENDA."
The Employment Non-Discrimination Act (ENDA) is legislation that prohibits discriminating on the basis of sexual orientation when hiring.
Charlie Crist now says there's "no question" he's a "Barack Obama Democrat."
8.
On the day Obamacare was passed into law, Crist said he hoped to repeal it.
He even sent a bunch of tweets attacking Obamacare while as governor and running for Senate (these tweets have now been deleted).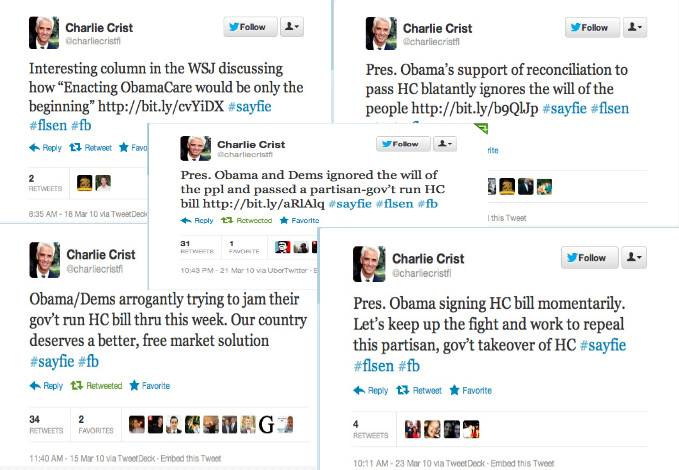 9.
In 2010, when running for Senate, Crist said of the military's former "don't ask, don't tell" policy, "I think the current policy has worked pretty well for America. I really do. So I don't know why there's any need for change at this time."
A week later, Crist said he supported the repeal of DADT.
10.
Of President Obama's stimulus bill, Crist said on Hardball in 2009, "I support it."
Crist then said on CNN, to Wolf Blitzer, "I didn't endorse it."