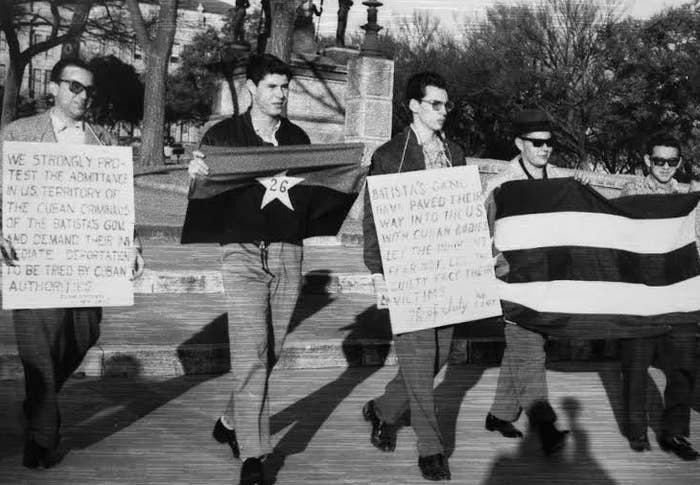 Long before his son would run for president, or he himself would become a popular political speaker, Rafael Cruz was something else for a brief period: a pro-Castro student activist.
The story of Cruz's departure from Cuba is an arduous story that the father of Sen. Ted Cruz, the newly-announced presidential candidate, tells often — a story his son referenced, at the beginning of his presidential announcement speech, as a tale of the "promise of America."
As Rafael Cruz tells it: He was a teenager from Matanzas, Cuba, picked up by the secret police of the American-backed Cuban dictator Fulgencio Batista. He was jailed, then tortured for days. The regime released Cruz, but only after threatening him with execution, and ostensibly so that they could spy on him in the hopes of finding more young revolutionaries.
After a fellow revolutionary threw cold water on his plans to join Castro's guerrillas in the mountains, he says he fled to the United States after quickly being accepted at the University of Texas as a foreign student. A family friend bribed an official to stamp his passport, and he arrived in Key West with his little money sewn into his underwear. He took a greyhound to Austin and got a job as a cook (because there was free food), before learning to speak English by seeing movies over and over again.
In these speeches, Cruz sometimes admits — with disbelief — that he once supported Fidel Castro's revolution. "I started speaking at different rotary clubs around Austin, Texas — in favor of Castro! I still thought he was the savior of the country," he told FreedomWorks, a conservative group, in 2013.
Local news articles and documents from the late 1950s offer a clearer picture of the days of Cruz as a young man, then a believer in the revolution and a visible college activist.
On Jan. 8, 1959, Fidel Castro rode victoriously into Havana. The country's dictator, Batista, had fled a week earlier. The next day, Rafael Cruz spoke to the Daily Texan, the student newspaper at UT-Austin.
"The July 26 movement was started not by the lower classes but the cultured people of Cuba. People like lawyers, businessmen, men of education. And you know the Communists like to prey on the downtrodden," said Cruz, conversing freely in his native Spanish.
The July 26 movement is the name of the movement led by Castro that overthrow Batista. The name comes from an attack on the Santiago de Cuba army barracks on July 26, 1953.
"Castro is a man of education," Cruz added. "He's not ambitious for power. He comes from a rich family and he himself is independently wealthy...it took a lot of money to stage this revolution but Castro collected it little by little from the people. He refused to accept aid from wealthy past politicians. He didn't want them to use this as a claim to enter Cuban politics again."
Russia had not given Cuba military aid, Cruz told the paper, which noted that Cruz "exalted Castro in an eloquent manner. He also attacked the charge that branded Castro a communist."
The reporter on the piece, Carlos D. Conde, would go on to cover the Kennedy assassination for the Dallas-Morning News and receive a 1968 Pulitzer Prize nomination. He didn't remember the details of his interview with Cruz when contacted by BuzzFeed News.
"The only reason they turned me loose," Cruz said of his capture at the time, "is because they were hopeful I might lead them to more sympathizers." The article stated "the person who gave Cruz's names to the authorities was lying in a pool of blood in the same where Cruz was interrogated. His head split open."
"He had no choice, but to give my name," Cruz told the Texan.
At the time, Cruz also was participating in demonstrations around Austin. A week prior to the Texan interview, Cruz had been one of six students who staged a demonstration protesting the political asylum of pro-Batista refugees in the United States.
The activists carried Castro's "Flag of Freedom" from the Texas Capitol steps down Congress avenue, according to the Austin American. Cruz carried a sign that read, "Batista's gang have paved their way into the U.S. with Cuban bodies. Let the innocent fear not. Let the guilty face their victims. 26 July Mov."
A fellow student's sign read, "We strongly protest the admittance in U.S. territory of the Cuban criminals of the Batista gov and demand their immediate deportation to be tried by Cuban authorities. Out of thousands of Cuban faves the voice rises: Don't let murder go unpunished."
Cruz's hatred for Batista, whose crackdown on civil and political liberties in 1950s Cuba also included public executions, ran deep.
"They deserve no mercy. They showed none," he told the school newspaper. "They were murders who exploited our people. Besides killing thousands they stole millions of dollars with their corrupt government."
The newspaper noted he still showed the scars from his torture. He had "a bashed nose" and was "missing half of his upper denture."
"This isn't bad compared to others," he said. "No one escaped the suffering unless he was pro-Batista."
The six Cuban students sent a letter to Austin American with equally tough language. The students spoke out against the Batista refugees, writing they hoped "this pack of blood thirsty hyenas will not be permitted to dirty the American soil."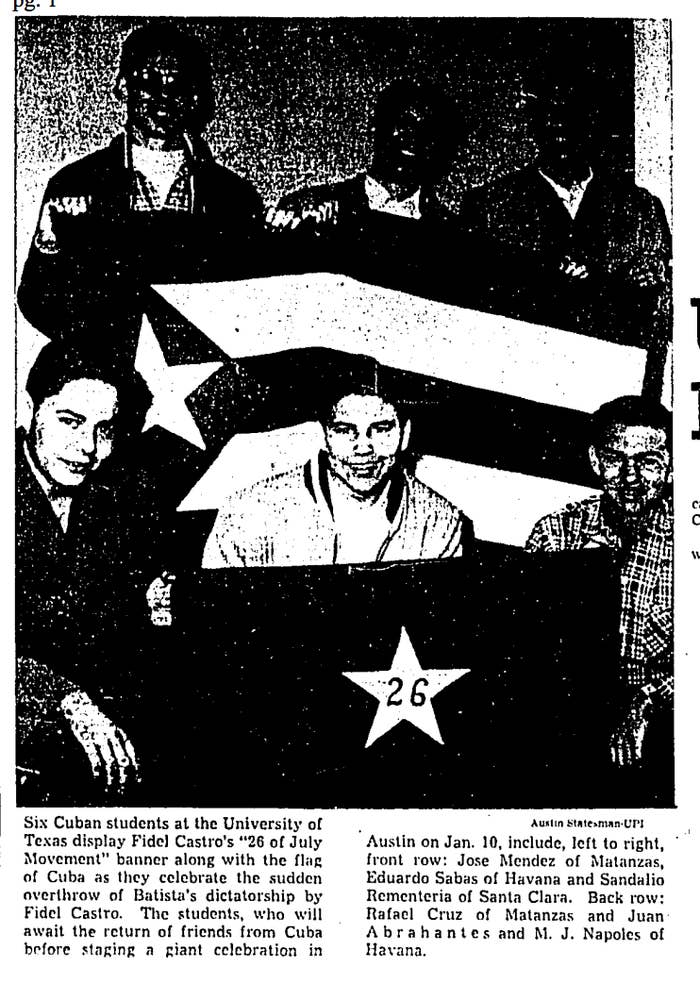 "The Cuban students at the University of Texas, fully aware of their duty as citizens of a country that has just gotten rid of the bloodiest dictatorship the Americas ever knew, want to state publicly their protest against the admission to United States soil of the Cuban criminals that flew in on the morning of Jan. 1," the students' letter said. "The granting of political asylum to men what can be considered no more than common criminals, and who have a debt of blood to the Cuban people, will leave a perennial stain upon the principles and ideals of the American nation. We sincerely hope … this pack of blood thirsty hyenas will not be permitted to dirty the American soil … We demand immediate deportation of these criminals who must be tried by the proper Cuban authorities."
The Daily Texan noted they planned another celebration in favor of Castro that weekend, as well. Garnering other details of Cruz's time at UT-Austin is difficult, as many of those who knew him are either dead or appear to have returned to Cuba following graduation. Julia Ann Garza, Cruz's first wife whom he married in 1959 while at the school, and who went on to become a professor of linguistics and Latin American literature, died in 2013.
Cruz told the Daily Texan he planned to return to Cuba that May following the fall of Batista. It was then, per his telling, that he became disillusioned with the revolution.
"I was shocked," he told TheBlaze in 2013. "This same man that I had heard talking about hope and change now was talking about how the rich was evil, how they oppressed the poor, and about the need to redistribute the wealth. They started attacking freedom of the press. They started confiscating property and freedom was a thing of the past."
"So I came back to the United States disillusioned," he continued. "I started speaking against the Castro regime."
""He was not just confiscating big factories," Cruz said at one gathering in 2014. "He was attacking anybody that was a medical doctor, was in the middle class — had their homes confiscated. People who were lawyers who were in the middle class got their homes confiscated."
"He began shutting down newspapers, television stations, radio stations. Then began putting pastors in prison," Cruz added. Cruz's father, also named Rafael, was working at the American radio station RCA at the time, according to Cruz's tellings and the 1959 interview.
Cruz's mother worked at an elementary school teacher; she refused to teach Communist propaganda, he told FreedomWorks in 2013. She faked insanity to no longer teach.
"My mother, she was an elementary school teacher, she taught sixth grade, and the Castro regime told all teachers they had to teach Marxism in school," he said. "And my mother did something for which I'm extremely proud. She walked one day into her sixth grade class, and faked an attack of insanity."
When Cruz returned to the United States, Ted Cruz son has said, he started apologizing for speaking in favor of Castro.
"When my father got back to Austin," Ted Cruz told the New Yorker in 2012, noting the elder Cruz's sister fought in the counter-revolution against Castro and was tortured, "he sat down and made a list of every place he'd gone to speak, and he made a point of going back to each of them and standing in front of them and saying, 'I owe you an apology. I misled you. I took your money and I sent it to evil ends.'"
"And he said, 'I didn't do so knowingly, but I did so nonetheless, and for that I'm truly sorry.' When I was a kid, my dad told me that story over and over again. To me, that always defined character: to have the courage to go back and apologize."
The Cruz campaign declined to participate in this story. The 1959 interview is below.