That Time Jeb Bush Did A Radio Segment Between "Lesbian Tuesday'' And ``No Panties Thursday"
With an assist from Charlie Crist.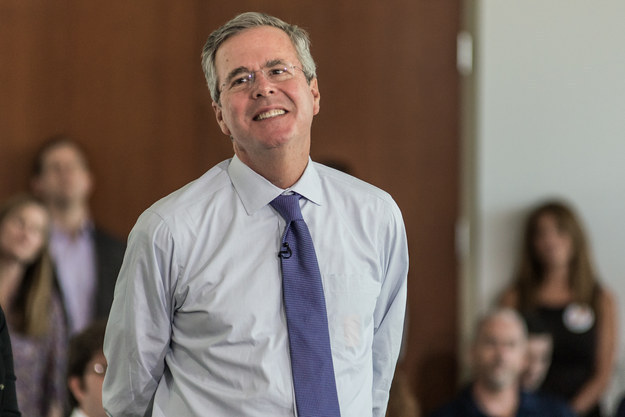 It was 1997, a simpler time, and Jeb Bush was making his second run for governor of Florida. Bush, like most gubernatorial candidates, decided to do a radio interview to help support his bid.
Bush's interview segment on the ``Bubba the Love Sponge'' morning radio show, arranged by then-state senator Charlie Crist, was sandwiched between "Lesbian Tuesday'' and ``No Panties Thursday" segments on the shock jock's show, according to the Miami Herald.
A ''Lesbian Tuesday'' show before Bush went on "featured Bubba interviewing two of his coterie of strippers, then graphically describing a sex act he said they were performing in the studio, while they provided sound effects and commentary," according to the Orlando Sentinel.
"Jeb goes on a lot of radio shows, trying to reach as many Floridians as possible. By going on the show, he doesn't endorse everything that happens on the show," a Bush spokesman said at the time. Bush made a similar appearance on the show during his 1994 bid for governor.
Charlie Crist, the future-governor-turned-independent-turned-ambulance-chaser lawyer-turned-Democrat had arranged the appearance on the show.
"I wouldn't tell you I approve of everything he does on his show, but he's still a friend of mine," Crist said, according to the Herald. "I doubt that people approve of everything I have to say, but we are a country that believes in free speech.''
Bubba said Bush was probably unaware of the show's content. "I don't think (Bush is) being hypocritical," he said. "He's from out of town, he may never have heard it.''
According to the St. Petersburg Times, Bubba the Love Sponge was fired in 2004 "after his station racked up the highest fine ever for indecency broadcasts."
In 2002, Bubba was acquitted of animal cruelty charges after he slaughtered a feral pig on-air in 2000.
Bubba the Love Sponge is currently best known for his litigation with professional wrestler Hulk Hogan after a video of Hogan having sex with Bubba's then-wife Heather Cole found it's way onto Gawker.com. Hogan and Gawker are currently fighting in court over the tape, with Hogan seeking $100 million in damages from Gawker.
Bubba the Love Sponge and Hogan settled, but Hogan said, "Just for the record, Bubba and I are NOT friends and never will be friends, we are NOT friends."
"I guarantee you, that's the next governor of Florida," Bubba told listeners after Bush's appearance.