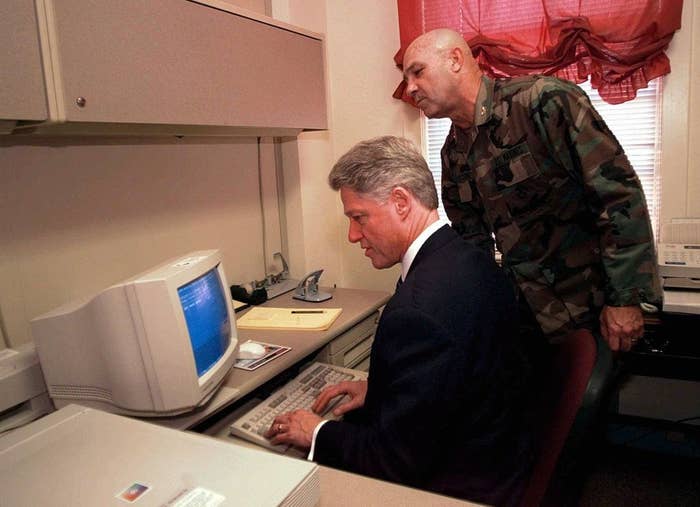 The Clintons have faced scrutiny this year for their family foundation's acceptance of foreign donations, including allegations in a new book Clinton Cash, which alleges that foreign entities gave to the Clinton Foundation or paid Bill Clinton for speeches and in turn received "favors" from the State Department during Hillary Clinton's time as secretary of state.
Bill Clinton himself, however, once was the person attacking his opponents for taking money tied to foreign interests. In the midst late of the 1996 Clinton re-election campaign against Bob Dole, the issue of foreign interests improperly funneling money to help Bill Clinton's re-election efforts became an issue. Dole, seizing on reports of improper contributions attacked Democrats for taking money tied to foreign interests.
Clinton shot back with an ad of his own, accusing Dole of being a hypocrite in an attempt to muddy the waters.
And the transcript:
MALE NARRATOR: Bob Dole. Desperate Attacks. President Clinton restricted foreign lobbying, fought for years for campaign-finance reform.

TEXT: Lifetime ban on foreign lobbying by top officials

MALE NARRATOR: Dole and the Republicans took $2.4 million from foreign interests.

TEXT: 2.4 million from foreign interests

MALE NARRATOR: Foreign oil, foreign tobacco, foreign drug companies.

TEXT: $216,579 foreign oil; $400,000 foreign tobacco; $485,350 foreign drug companies

MALE NARRATOR: A top Dole aide fined $6 million for a Hong Kong fund-raising scheme.

TEXT: Ex-Aide to Dole Campaign Admits Illegal Contributions

NARRATOR: An independent watchdog cites Dole as the senator "most responsible for blocking any serious campaign finance reform."

TEXT: Dole is "most responsible for blocking any serious campaign finance reform..."

NARRATOR: Bob Dole; wrong to turn to desperate attacks.

TEXT: Bob Dole: Wrong in the past. Wrong for our future
The issue of improper donations to Democrats, however, eventually did end up going beyond the back-and-forth rhetoric of campaigns. The scandal surrounding the donations eventually led to numerous investigations and fines.
As noted by the in a 1998 executive summary of the Senate Governmental Affairs Committee's "Investigation on Illegal or Improper Activities in Connection With The 1996 Federal Election Campaigns," led by then-chairman Fred Thompson.
Late in the 1996 presidential campaign, public reports surfaced about foreign donations to the Democratic Party and the DNC's improper provision of White House access to well-heeled foreign nationals. The White House succeeded in preventing the bubbling scandal from derailing the President's re-election, but these efforts could not prevent an ever more complex tale of campaign lawbreaking from coming to light, thus sparking an ongoing series of Congressional and criminal investigations that have so far involved the White House, the DNC, several government agencies, hundreds of witnesses, and several foreign countries.
''The decisions we made, we made because we thought they were in the interests of the American people,'' Mr. Clinton said when addressing news of the illegal foreign contributions in 1997.
The DNC eventually also was fined $115,000 and the Clinton-Gore campaign $2,000. The Senate also report notes "the Democratic National Committee was ultimately forced to return $2,825,600 in illegal or improper donations."