Ted Cruz: U.S. Will Stop Taking Syrian Refugees "Immediately If I'm Elected President"
"It is lunacy for President Obama to be bringing people into this country who are coming here to commit jihad and murder innocent Americans."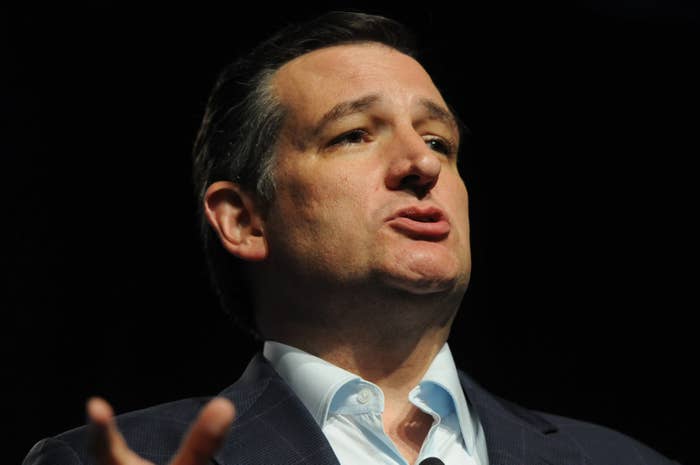 Texas Sen. Ted Cruz says the United States will stop taking in Syrian refugees if he is elected president.
"President Obama's proposal to bring in tens of thousands of Muslim Syrian refugees makes no sense, and I think it's crazy," the Republican presidential candidate told radio host Jan Mickelson on Monday. "And I have been outspoken against this leading the efforts to stop this. This is one of the things that will stop immediately if I'm elected president. You know, you look at this refugee crisis; you look at the refugees right now that are streaming in to Europe of that refugee wave, one estimate of that is 77 percent of those refugees are young men."
"The director of national intelligence has observed that those refugees coming into Europe, it is very likely that it includes a significant number of ISIS terrorists," continued Cruz. The independent fact-checking site FactCheck.org has noted that Cruz is misquoting National Intelligence Director James Clapper. Clapper has said it is "huge concern" that ISIS could infiltrate the refugees but expressed confidence in the United States's stringent background check systems for those our country accepts.
The Obama administration announced in early September that it hopes to take in 10,000 Syrian refugees next year. Refugees seeking entry into the United States undergo multiple high-level security checks and an in-person interview with a representative from the Department of Homeland security.
Cruz's comments echo fellow Republican candidate Donald Trump, who has said Syrian refugees could be a "trojan horse" for ISIS.
"It is lunacy for President Obama to be bringing people into this country who are coming here to commit jihad and murder innocent Americans," stated Cruz. 'It doesn't make any sense, and sadly it is a result of the ideological extremism of this president and his unwillingness to protect our national security."
Cruz lamented that the president has significant authority refugee policy.
"You know under existing immigration law, the president has considerable leeway governing refugees, unfortunately," said Cruz. "And so, I think the most potent tool is shining a light, and forcing Democrats to defend it, forcing them to defend why exactly would you want to bring in Syrian Muslims, when we don't know, we can't sort and separate, the ISIS terrorists who are among them."
You know, I think that's a policy that no Democrat wants to defend, and the real solution here is electing a new president, because, you know, unfortunately there are consequences when you elect a commander-in-chief who is a radical and a zealot and who is undermining our country."