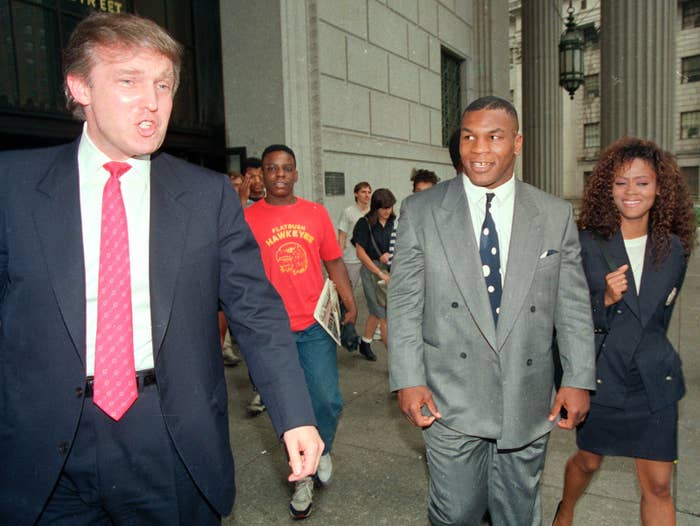 Earlier this week, Donald Trump picked up the endorsement of former heavyweight boxing champion and longtime friend Mike Tyson. Touting Trump's business acumen, Tyson told the Huffington Post on Monday, "He should be president of the United States. Let's try something new. Let's run America like a business, where no colors matter. Whoever can do the job, gets the job."
Trump and Tyson' friendship actually goes back some 30 years, when Trump hosted several boxing matches featuring Tyson in the 1980s. But even by Trump's standards, the friendship was an odd one, marked by rumors of an affair between Trump and Tyson's wife, mismanaged money, and a trip to Japan caught up in Trump's characteristic manipulation of the media.
Most of the salacious details of the friendship are documented by Trump biographer Harry Hurt in his book, Lost Tycoon. In the book, published in 1993, Hurt details instances in which Trump and Tyson's then-wife Robin Givens were spotted alone together, including an afternoon and evening on Trump's yacht. According to sources cited in the book, Trump was once overheard complaining about Givens' oral sex skills. Trump and Givens deny the affair ever occurred (Givens was asked about the alleged affair on Larry King), and the rumors never seemed to impact Trump's relationship with Tyson publicly.
Trump himself wrote of his friendship with Tyson in his book, Surviving at the Top, in a chapter titled "Iron Mike and Me."
In it, he describes his long friendship with Tyson, noting that he "got a kick out of watching" the boxing champ because, as a "dealmaker," he felt he had cultivated a similar "'killer' image" to intimidate adversaries.
He also details some of his less flattering impressions of Tyson, such as the boxer's struggles with money. Trump recalls once giving Iron Mike a check for $10 million, after Tyson's famous knockout of Michael Spinks in 1988. A few days later, the check still hadn't been cashed.
"It turned out that Mike had simply misplaced the $10 million," Trump writes in the book. "When someone reminded him about it, he shrugged and looked for the check, but it was a few weeks before it was found and deposited by one of his people."
Trump also wrote of a heart-to-heart conversation the two had about Tyson's marital troubles with Robin Givens, who alleged that Tyson abused her.
"Mr. Trump, I just love that fucking bitch," Tyson allegedly told Trump, when Trump asked him how he really felt about Givens.
Then there was the trip to Japan in 1990, where Tyson suffered a historic defeat at the hand of Buster Douglas in a boxing match at the Tokyo Dome. The match was billed as "Tyson is Back!" and was meant to refocus the public's attention from Tyson's personal scandals to his position as the undisputed heavy weight world champ. Trump, whose marriage to Ivana Trump was falling apart at the time, was hoping the trip would enhance his organization's flagging efforts to market some of Trump's New York condos in Asia, according to John O'Donnell, the former president of Trump Plaza.
Faced with lagging excitement and ticket sales, Trump, according to Hurt's biography, spread the rumor that Michael Jackson would accompany him to Tokyo for the event. According to the biography, the rumors started with Trump himself and were fueled by the Tyson camp (who also leaked that the Rolling Stones might attend the match), with both parties eager to use the singer to boost interest from the Japanese population.
For the Japanese audience, all the rumors culminated in disappointment. When Trump arrived in Tokyo (without Jackson), he found a battalion of reporters and, as Hurt tells it, strode out alone to meet them, informing his handlers, "They're here to see me."
But when they saw him, one asked, "Where is Michael Jackson?" The book says the media scrum dispersed without asking Trump a single question.
Trump, according to Hurt, left Tokyo soon after Tyson's defeat, but only after he announced that he would be visiting Buster Douglas' dressing room, not his friend Tyson's. "It's over for him," Hurt recounts Trump saying as Tyson was taken from the ring. "He'll never come back from this."
"I'm going to Buster Douglas' room. He's the champ."
"I'm not going to Tyson's dressing room," Hurt reports Trump as saying. "I can't go near him. It might rub off. The same thing could happen to me."
Trump recounts his own feelings about Tyson's loss in Surviving At The Top.
"I am anxious about what happens next for Mike," he wrote. "No matter who he fights in the years ahead, he faces his greatest challenge now. In a world that asks 'What have you done lately?' he can only respond, 'I lost the big one.' For a long while he was Superman, or at east everyone told him he was."
But Trump ultimately expressed confidence in Tyson's future.
"Mike may not give a damn about fluctuations in the gold market or pork-belly futures, but he knows when someone's trying to hurt him," he said. "As long as he doesn't do anything to hurt himself, he's going to be all right."