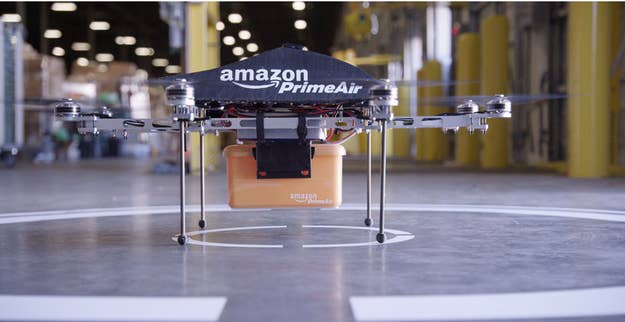 A Senate committee will hold a hearing early next year to explore the potential economic impact of private companies using drones, including Amazon's proposed drone delivery program, BuzzFeed has learned.
An aide to West Virginia Sen. Jay Rockefeller, the chairman of the Senate Committee on Commerce, Science, and Transportation, said the hearing was in the works before Amazon CEO Jeff Bezo's Sunday night announcement that the company plans to use drones to make deliveries.
"Amazon's plans for using drones to deliver packages is just one example of the potential this technology offers consumers, and a reflection of the ingenuity of American business," Rockefeller said. "As we move forward toward integrating drones into civilian life and capitalizing on the economic opportunities they offer, we must make certain that these aircrafts meet rigorous safety and privacy standards. I plan to hold a hearing early next year to explore the potential economic benefits of unmanned vehicles in our airspace as well as the potential risks they may create."
Bezos introduced the delivery system, which is currently being developed, on CBS' 60 Minutes, saying he believed Amazon drones, known as Amazon Prime Air, could be used for deliveries in as little as four years. Bezos acknowledged drone use would not be possible before 2015 because it requires the approval of the Federal Aviation Administration.
"They are effectively drones, but there's no reason they can't be used as delivery vehicles," Bezos said. "I think this looks like science fiction, but it's not. … We can do half-hour delivery and carry objects we think up to five pounds, which covers 86% of the items we deliver."