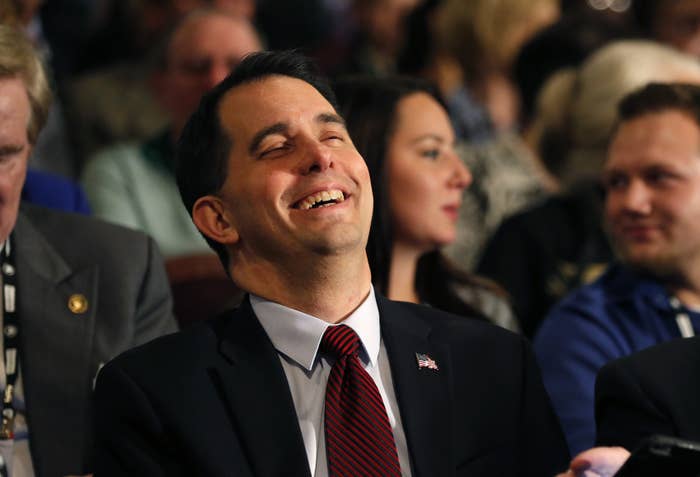 Wisconsin Gov. Scott Walker on Wednesday morning celebrated Donald Trump's defeat in his state's primary and blasted the national media for giving Trump soft coverage in pursuit of ratings.
Walker had endorsed Ted Cruz, who won Wisconsin's primary on Tuesday.
"It's a great day for Wisconsin, it's a great day for America," said Walker on WTMJ's Charlie Sykes Show. Walker credited Sykes, who confronted Trump in a hostile interview last week, with not selling out like national media outlets in exchange for access to Trump.
"Well, again I give all credit to the voters to begin with, but I think a number of different things," said Walker. "I certainly think some time, I think you in particularly, you leading the other talk radio hosts across the state had a significant, significant impact in terms of just running counter to what we see nationally where the national media can't help fall over themselves, mainly because, I think they're so worried about access to drive up what they perceive as big ratings. You and others following along with you were actually interested in getting information out to voters, the real facts and understanding that this wasn't about ratings, this was ultimately about the future of our state and of our country."
Walker said that Trump attacking him in Wisconsin was akin to him attacking Aaron Rogers or Brett Farve at Lambeau field.
"What I thought about in Green Bay a couple times this week, it would have been like coming into Lambeau Field and taking a whack not only at Aaron Rogers but it would be like taking a whack — even though he's been gone for a while — at someone like Brett Favre," Walker said.
"That would have been like having somebody coming in and not getting it and somehow attacking Brett Favre in Lambeau Field in Green Bay."