Rick Perry Is Selling T-Shirts With His Mugshot On It
Because why not.
For a minimum donation of $25 you can get a t-shirt with Rick Perry's mugshot on it. Perry's political action committee RickPAC began selling the t-shirts Wednesday.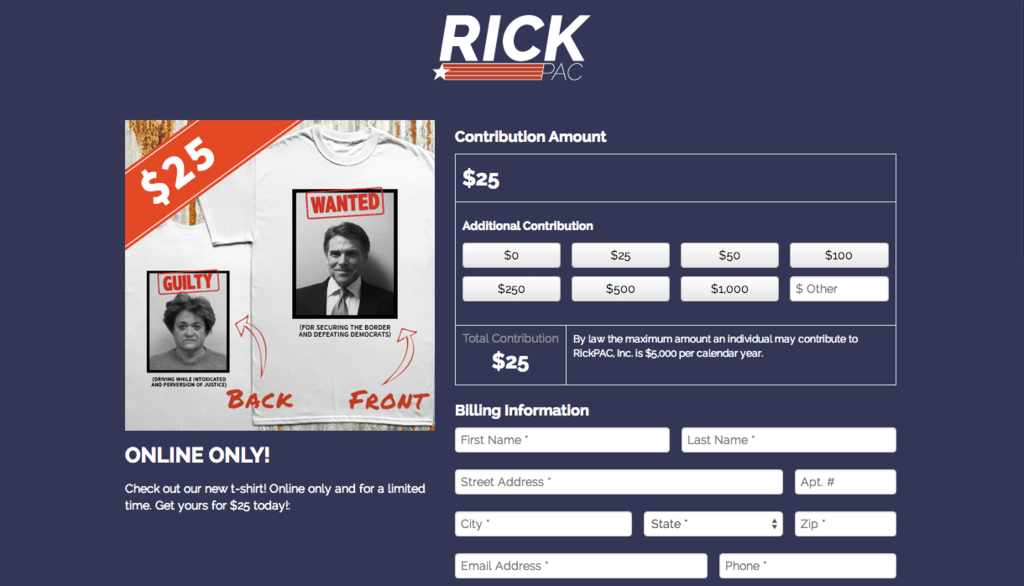 If you're unfamiliar with Perry's indictment:
Perry was indicted by a state grand jury two weeks ago on charges of abusing his official capacity and the coercion of a public servant.
In April 2013, Perry attempted to force Travis County District Attorney Rosemary Lehmberg to resign after she was arrested for drunk driving. Lehmberg refused and later took a plea bargain where she served 45 days in jail and paid a $4,000 fine.
Perry then threatened to veto more than $7 million in state funding for a program she runs, with the acknowledgment that Travis County could continue to fund it if the state stopped funding it. The program, called the Public Integrity Unit, investigates allegations of political corruption. Perry later vetoed the funding.
The two charges stem from this incident.