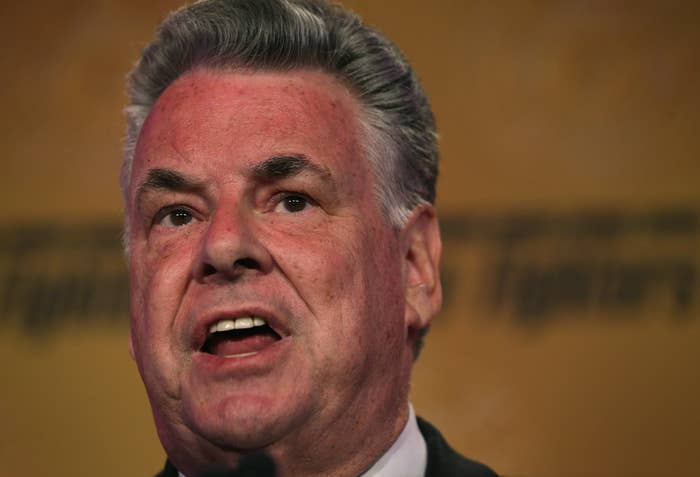 New York Republican Rep. Peter King says presidential candidate Ted Cruz is a hypocrite and a fraud for attacking Donald Trump's "New York values" and called Cruz's comments a "cheap appeal to the people of Iowa."
"I'm convinced and know that he's a fraud and a hypocrite," King said in an interview with BuzzFeed News on Friday. "There's absolutely no moral, there's no basis for any of what Ted Cruz is all about. He was a fraud when he led the effort to shut down the government over Obamacare, but had no plan at all as to what to do once the government was shutdown."
"Coming to New York and basically begging for money from the same so-called rich people that he attacks," King continued. "Talking about New York's lack of values when New York was the inspiration for the country. All of Americans were New Yorkers after 9/11. I don't know any other city in the country or region that could have responded the way New York did to 9/11. There was no panic, there was no fear. There was no crying and complaining."
Earlier this week, Cruz criticized Trump, saying, "Donald comes from New York and he embodies New York values." At Thursday's Republican debate, Trump responded by invoking New York City's resilience in the wake of the Sept. 11, 2001, terror attacks.
The New York congressman said Cruz was using a "cheap shot" on New York to appeal to the people of Iowa for votes.
"He was trying to make a cheap appeal to the people of Iowa around that. I think he misjudged where he used the term 'values.' I give Trump tremendous credit for the way he used 9/11 last night and used it in a proper way, because after 9/11 Americans everywhere were New Yorkers."
"I think it backfired," said King, noting that the crowd cheered for Trump.
Cruz "did a total panic and reverse, he started clapping also. Which is really ironic, here he is clapping for Donald Trump defending New York values," he said.
King continued, "When I hear people taking cheap shots at these guys, are they talking about the cop that ran into the building or the firefighter that ran into the building, or the construction worker that ran into the building? Or, they talking about the social workers who go into these poor neighborhoods? There is this whole cross-section of New York of people who do so much good. And to have these cheap-shot artists like Cruz take shots at us is really despicable."
King, who told BuzzFeed News he would support Trump over Cruz, said he didn't understand how anyone from New York could be a supporter of Cruz.
"I don't see how anyone from New York can give Cruz money, I really don't," he said. "Here's a guy who has voted against New York. Here's a guy who has questioned our values, attacks our values, who has achieved nothing in the United States Senate. He has no support in the Senate at all."
"What anyone from New York sees in Ted Cruz is beyond me, and again, the hypocrisy of him getting a million-dollar loan from Goldman Sachs and his wife is working there," said King, noting Cruz's attacks on big Wall Street banks.
"Anyway you look at this guy, he's a fraud," King said.
And a Cruz nomination would be nightmare, he added, noting he's most in line with "Rubio or Bush."
"Ted Cruz could be the nominee, it would be terrible," said King. "I would feel like I was home and I was having a nightmare and was gonna wake up. It's dangerous, it's damaging to the Republican Party. It's damaging to the country, he's just not equipped to be president."