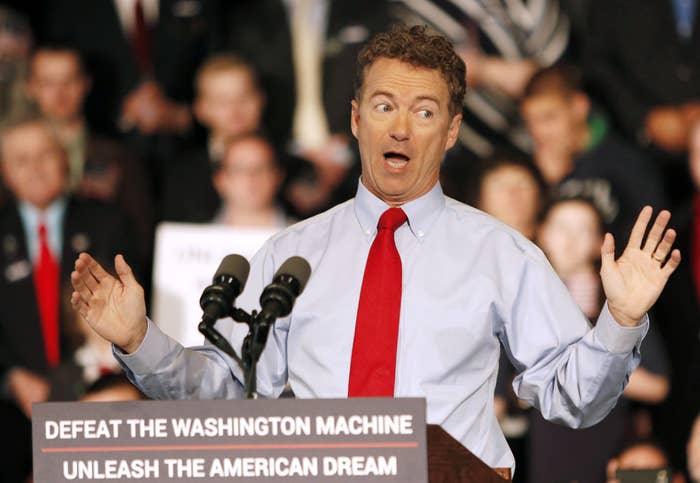 Kentucky. Sen Rand Paul has skipped most Homeland Security hearings since 2014, a review of videos and documents related to the hearings show. BuzzFeed News was only able to verify Paul's attendance at five out of 73 hearings since last January, less than ten percent overall.
Paul's attendance, which was tallied at full committee hearings and subcommittee hearings, was verified via review of transcripts and videos of the hearings. In some instances Paul voted by proxy in the committee when he didn't attend.
The Kentucky senator launched his presidential campaign Tuesday in his home state. In a video on his issues page, Paul calls "national defense" the "primary Constitutional function of the federal government....bar none."
Paul's website says he "supports a strong national defense" and a secure border.
"As President, I would secure our border immediately," Paul's website reads. "Before issuing any visas or starting the legal immigration process, we must first ensure that our border is secure."
Paul missed four different hearings related to border security this month.
Paul also missed a hearing last year on "Lessons Learned from the Boston Marathon Bombing," an opportunity to question Homeland Security Secretary Jeh Johnson on the 2015 budget, hearings on dirty bombs and cyberterrorism among others.
Paul was highly critical of the Center for Disease Control during the brief outbreak of Ebola in the United States last October, but Paul did not attend the hearing in which the director of the CDC Dr. Tom Frieden testified before the full committee in mid-November.
"Senator Paul is one of the most active members of the U.S. Senate," a Paul aide told BuzzFeed News on Wednesday.
"In that same timeframe, he has made more than 98 percent of the votes in the Senate and authored more than 50 bills and amendments, all the while maintaining a full schedule of meetings with Kentuckians in his office. When schedules conflict, he has chosen to spend his time hearing the thoughts of Kentuckians."
Paul is currently the chairman of the Subcommittee on Federal Spending Oversight and Emergency Management, which hasn't held any hearings since January. He is also on the the Permanent Subcommittee on Investigations.
In the last session of Congress, Paul was on three subcommittees and was the ranking member on Emergency Management, Intergovernmental Relations, and the District of Columbia.
Last year, current Sen. Thom Tillis of North Carolina blasted then-Sen. Kay Hagan for missing "half the Armed Services Committee hearings" in 2014.
Sen. John McCain blasted Hagan as well for missing a hearing on ISIS for a fundraiser in New York.
A Politico article last week noted Ted Cruz had the worst attendance record of any senator on the Armed Services Committee this year.
Recently, Florida Sen. Marco Rubio missed three closed-door intelligence and ISIS briefings during a fundraising haul in California. A spokesperson said Rubio was considering running for president and it was "not unusual for presidential candidates to occasionally miss Senate business."
Here's a spreadsheet on the missed hearings: