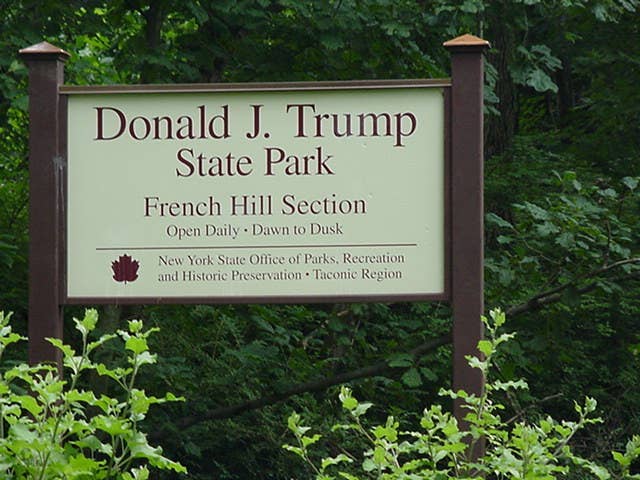 A Long Island Democrat will introduce legislation in the New York State Assembly to strip the name of Donald J. Trump State Park, moving the measure a step closer to reality.
Assemblyman Charles Lavine of Long Island said in a letter to Governor Andrew Cuomo he thought the park should be renamed for Muslim Revolutionary War veteran named Peter Salem.
"It is time the State of New York sends a message to Donald Trump that his hate speech is not welcome in our great state," said Lavine in a statement on Thursday. "I am confident that the governor will take our letters into consideration. If he is unable to act, then we are prepared to move forward with this legislation."
"When it comes to demagoguery and the primitive impulse to fan the flames of religious bigotry and xenophobia, Donald J. Trump seems to be doing just fine all on his own without the need for New York State to promote his un-American ideations by displaying his name on one of our State Parks," he added.
On Monday, State Sen. Daniel Squadron, who represents the 26th district in the New York state senate, introduce legislation to strip the park of its name. He also wrote a letter to Gov. Andrew Cuomo, asking him to begin the process of renaming the park.
The fate of the park — and of prominent signs on New York roads advertising Trump's name — now rests on legislative leaders, Republican John Flanagan in the Senate and Assembly Leader Carl E. Heastie.
The proposal to rename the park has also drawn support from Democratic Congressman Sean Patrick Maloney, whose district is home to much of Donald J. Trump State Park, who proposed renaming the park for legendary folk singer and environmental activist Pete Seeger.
Local Republican leaders, however, are resistant to the idea.
"We should be focusing on ways to regain the public's trust and changing the name of a state park is just a pathetic, small minded, self-serving political diversion from what is important to New Yorkers," said Republican Assemblyman Steve Katz, who represents portions of the park in 94th district.