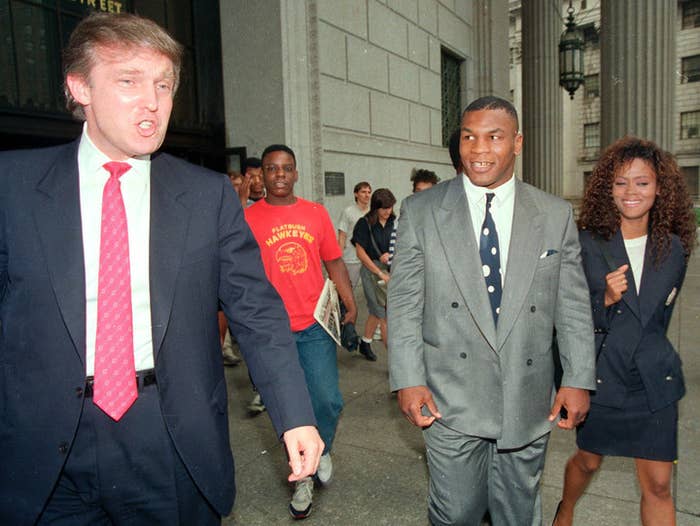 Indiana talk radio host Greg Garrison, the prosecutor in boxer Mike Tyson's 1992 rape trial, criticized Donald Trump on his radio show Thursday for suggesting Tyson's victim was to blame for the incident and for touting Tyson's endorsement in the state earlier this week.
"Mr. Trump, tough is one thing, a serial rapist is quite something else," Garrison said on his show on WIBC 1070 AM. "A 17-year-old girl, her clothes ripped off her, torn, all because in her naïveté at 17 – the fact that her brother and her father were huge Mike Tyson fans made her feel that she would be absolutely safe with him – and boy was she wrong."
"I've been thinking about this all night," he continued." Kept me up. You know how I feel about this election stuff. I don't want to throw rocks at anybody. I have my differences with Mr. Trump. I got a couple with Mr. Cruz. But this is where I want you to listen to me with both of your ears open. "
Garrison then turned to Trump's 1992 comments on NBC Nightly News, uncovered by BuzzFeed News, in which he suggested Desiree Washington wasn't actually a victim of rape and that Tyson had been "railroaded" in the case.
"I see a news piece from back some time ago when Mr. Trump appears to have suggested it was her fault," Garrison said Thursday. "I'll tell you one thing Mr. Trump, had that been your daughter, those words would never have come out of your mouth. And you would never have thought about it."
Garrison added that Trump needed to think before touting Tyson's endorsement.
"So what does that mean about Mr. Trump," he said. "The leader of the free world needs to be rid of that kind of stuff and maybe considered in his information before he speaks or ingratiates himself to a the likes of a thug like Mike Tyson.
The radio host, who said he liked a lot of what Trump says, added the comments made him question Trump's competence to be president.
"In Indiana, really, did nobody in your entourage know that snake raped a kid, in this town," asked Garrison. "I think I'd beef up my intelligence operation a little bit. Things literally fly off the top of his head. I have to wonder, is that person a good commander-in-chief, the leader of the free world?"