No Labels Republicans Voted Against Ending The Shutdown
Thirteen Republicans affiliated with No Labels voted against the deal that reopened the government.
The political advocacy group No Labels describes itself as "a national movement of hundreds of thousands of Republicans, Democrats and independents promoting a new politics of problem solving."
The group is co-chaired by former Utah governor and ambassador Jon Huntsman and West Virginia Senator Joe Manchin. A Republican and a Democrat, respectively.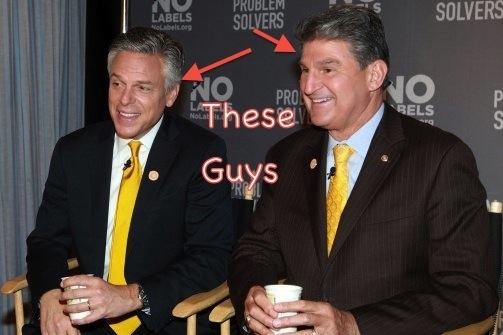 No Labels has a group of "problem solvers." The group is comprised of "87 House and Senate members who are meeting regularly to build trust across the aisle."

They even had a 1-800 number.

After more than two weeks, a deal was struck between Democratic and Republican Senate leaders which reopened the government and raised the debt ceiling. The deal, which was negotiated by Senate Democratic Majority Leader Harry Reid and Republican Minority Leader Mitch McConnell keeps the government running through Jan. 15, with the debt limit raised until Feb. 7.
Thirteen Republican House members of the No Labels group voted against the bipartisan deal. Here's how the final House roll call of the vote looked:

Those 13 members were Republicans Kerry Bentivolio, Diane Black, Jeff Denham, Scott Desjarlais, Sean Duffy, Renee Ellmers, Bill Johnson, Jack Kingston, Mark Meadows, Mick Mulvaney, Scott Perry, Tom Rice, and Tom Rooney.
North Carolina Republican Rep. Mark Meadows, a No Labels problems solver, has even been described as the "architect of the brink" and "the man behind the government shutdown."