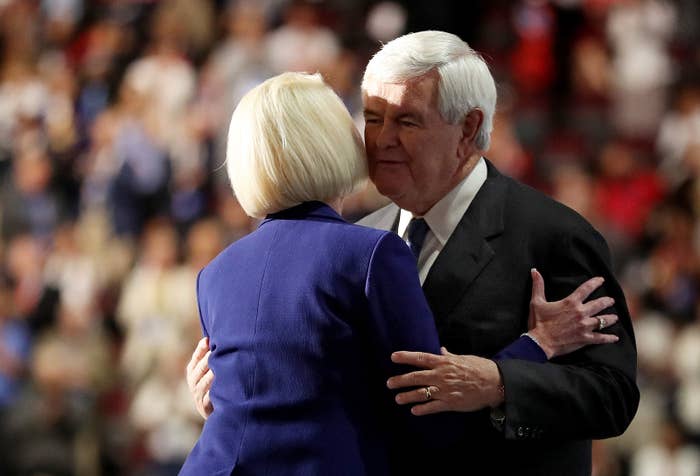 Former House Speaker Newt Gingrich floated whether the death of a DNC staffer was related to Wikileaks' release of thousands of emails. Gingrich contended that there are scenes where you realize "dangerous things are going on in the world" — like in his espionage novels.
Gingrich made the comments on the Mike Gallagher Show on Wednesday when asked about WikiLeaks founder Julian Assange floating the possibility this week that a murdered Democratic staffer was an informant for the organization. (Assange said the organization protected the anonymity of its sources, while also saying the death was "concerning.")

"First of all, of course it's worth talking about," Gingrich said. "And if Assange says he is the source, Assange may know. That's not complicated. Whether it has any meaning in the presidential campaign, I don't know, but obviously, look, I'm old fashioned. I think not only do black lives matter, I think all American lives matter."
Seth Rich, a DNC employee who did voter outreach, was shot to death last month early in the morning in Washington, D.C. The case is unsolved and police have speculated it was an attempted robbery. After Assange's comments, Rich's family released the following statement:
"The family welcomes any and all information that could lead to the identification of the individuals responsible, and certainly welcomes contributions that could lead to new avenues of investigation. That said, some are attempting to politicize this horrible tragedy, and in their attempts to do so, are actually causing more harm than good and impeding on the ability for law enforcement to properly do their job. For the sake of finding Seth's killer, and for the sake of giving the family the space they need at this terrible time, they are asking for the public to refrain from pushing unproven and harmful theories about Seth's murder."
On Reddit, Rich's death has become the source of theories about whether he was involved in the leaks of emails and files from the Democratic National Committee last month. US intelligence officials have linked the leak to a Russian hack, though there has been no official conclusion on the matter.
"If someone is gunned down in our national capital, we ought to have a pretty passionate interest in knowing why," continued Gingrich. "And if it clearly wasn't a mugging and it wasn't for money, what was it for? I think just in that sense, as you know I've written two novels: Duplicity about terrorism and the presidential campaign and the follow-one Treason is coming out. We have these kind of scenes in there where you begin to realize that there are dangerous things going on in the world."
"I think part of what happens to all of us though is there is so much clutter, but it's all about Hillary and the emails," he said. "There are so many different points of sickening corruption between Bill, the foundation, the secretary of state's office, the emails. There's so much of it you can't get it straight."