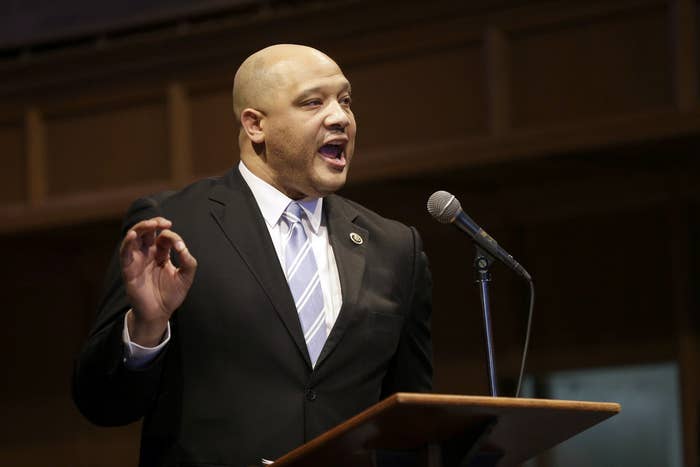 Democratic Rep. Andre Carson, the second Muslim-American to be elected to the House of Representatives, says the movement to halt the admittance of Syrian refugees to the United States after the terrorist attacks in Paris is a "deep kind of bigotry."
"I think what's taking place is a deep kind of bigotry that is evolving and hardening into the political landscape," said the Indiana congressman on Sirius XM radio this week. "Our previous governor, Gov. Mitch Daniels, is of Syrian descent; he was one of Bush's few Arab advisers. And so, my hope being is that, folks like you, who are using you platform phenomenally well, continue to use similar things to spread the word."
Indiana Gov. Mike Pence was one of the more than two dozen governors across the U.S. to announce that his administration would attempt to stop Syrian refugees from resettling in his state until further assurances on security were made by the Obama administration. The House passed a bill last month that would suspend U.S. acceptance of Syrian refugees until more security measures are put in place. Carson called that bill "draconian," and said that the record has proven Syrian refugees to be law-abiding citizens.
"Since two years ago, I think 2013, last November, about 2,200 refugees have been admitted to the United States, and half of those were children. So you have families that were driven out of their homes by the disgraceful war in Syria, and ISIS's, or Daesh's, brutal rule, and a quarter of those refugees are over 60," said Carson. "So they've proven to be law abiding citizens and we've not had any problems."
CORRECTION
Rep. Andre Carson is a congressman from Indiana. This article originally misstated that fact.