Mitt Romney Called High Gas Prices A "Permanent Phenomenon"
The Republican Presidential frontrunner saw gas prices as possible permanent occurrence in 2005.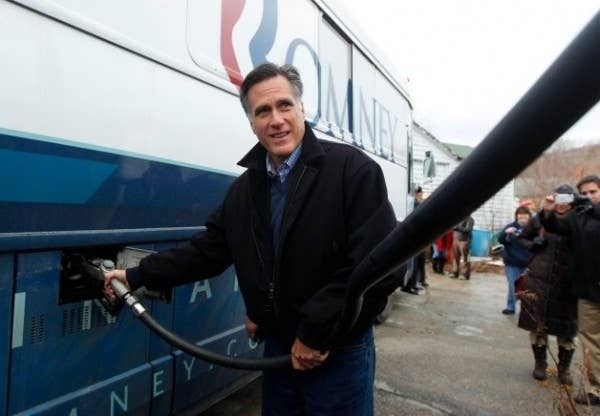 The New Republic's Alec MacGillis reveals in an article today that as Governor of Massachusetts Mitt Romney discouraged lowering high gas prices by repealing a gasoline taxes because it would encourage more gasoline consumption.
Romney said in 2006, according to the Quincy Patriot Ledger, "I don't think that now is the time, and I'm not sure there will be the right time, for us to encourage the use of more gasoline. I'm very much in favor of people recognizing that these high gasoline prices are probably here to stay."
Romney was also pushing the narrative of high gas prices being permanent as means for finding a energy solution in 2005. At a press conference for an energy bill seeking a long-term financial incentives for state residents to reduce their consumption of electricity, fuel, and natural gas Romney said high gas could be here to stay.
''I think you'll see . . . that I will focus increasingly on finding permanent solutions to the high cost of energy, because we believe that this high cost is not a temporary phenomenon, but has the potential of being a permanent phenomenon," Romney said during a press conference held before the lawmakers'.