Mike Pence Denounced NAFTA Conspiracy Theorists In The '90s
"...we just don't want to fuel paranoid delusions."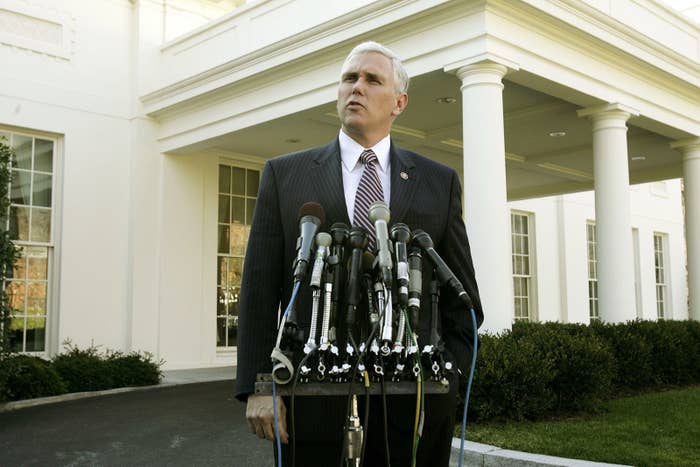 In a 1995 interview, Mike Pence echoed then President Bill Clinton's call in denouncing the "promoters of paranoia" on the radio and singled out one radio host for promoting "one world government" conspiracies about the North America Free Trade Agreement.

Pence made the comments in an issue of the Howley Political Report uncovered by BuzzFeed News. He was responding to Clinton's remarks in the wake of the Oklahoma City bombing.
"I think President Clinton is right in that vein. We have rights in America. In tandem with those rights we have responsibility," Pence said. "Whatever type of journalist we are, whether it be in the entertainment business, or as professional journalists, we always have the consequences of the way we present fact and information.
Pence, who is now Donald Trump's running mate, blasted one host by name, Stan Solomon, who he said promoted conspiracy theories about free trade.
"Stan Solomon is a talk radio host who trades in conspiracy theories, who trades in the idea that the North American Free Trade Agreement, or the general agreement on tariffs, are both part of a one world government conspiracy. While I don't believe that is true, we just don't want to fuel paranoid delusions."
Pence often described himself as kinder radio host than the typical right-wing talk radio personality.
"I would certainly never call myself a local Rush Limbaugh," Pence told The Daily Journal in 1993. "My radio show is not shock jock radio."
Speaking with the Indianapolis Star for a 1995 profile, Pence criticized Limbaugh again for personally attacking Bill Clinton.
"Conservative media, including Rush, have a tremendous blindspot when it comes to making a distinction between differences in public policy and personal differences. People like Rush and Stan fail to see the difference between saying, 'Bill Clinton is wrong on affirmative action' and saying 'Bill Clinton is a liar, a profligate, and an evil person.' Why do they do do it? People respond to low blows. But I will not do it because I remember the time I was pushing all the the teeth back into my gums after the 1990 campaign."
"I'm not interested in exploring the narrow, paranoid little tributaries like some hosts," he added.