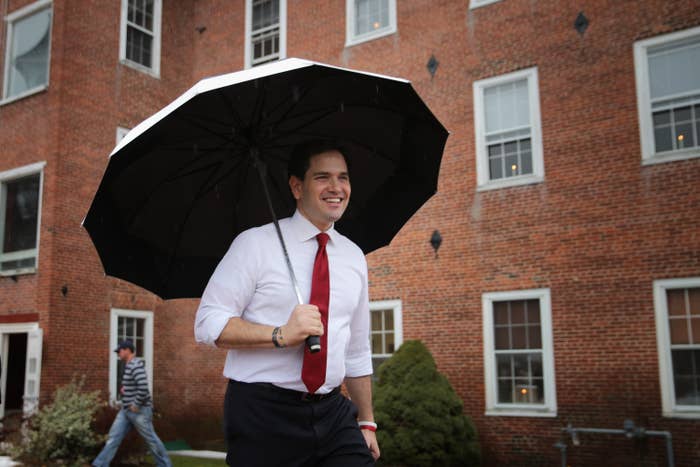 In the mid-2000s, Marco Rubio was described as having "represented local governments before Congress" — meaning that he was a lobbyist — for a prestigious Florida law firm.
Officials for the Florida senator's presidential campaign have said in recent days that Rubio wasn't a lobbyist.
The Washington Post first reported that Rubio had registered as a federal lobbyist in the 2003 for the law firm Becker & Poliakoff. His campaign said the senator had no recollection of filing out the registration form, and a former associate who worked with Rubio at the law firm said that he could not recall Rubio lobbying the federal government. The associate described Rubio's role to the Post as more of a coordinator and facilitator, but not a lobbyist.
A 2005 biography found by BuzzFeed News also describes Rubio's role as more in line with traditional lobbying. That biography is for a second, different law firm, Broad and Cassel, to which Rubio had moved. One of the bullet points reads that Rubio, then the majority leader of the Florida House of Representatives, represented local governments before Congress.
Todd Harris, a Rubio campaign operative, told BuzzFeed News he didn't know how the detail made onto Rubio's page. "You can talk to every firm he's every worked for and they will tell you he never lobbied the federal government," Harris said.
Rubio's bio page at Broad and Cassel also noted he had "represented multiple clients before local government on contract procurement and affordable housing land use issues."
Rubio was registered as a federal lobbyist for Becker & Poliakoff until 2005, according to the records first dug up by the Post. The firm, the Post noted, "had formed a joint venture with a Washington lobbying firm hired by Miami-Dade County to help find federal funding for Miami's public hospitals." In 2005, the firm sent a letter to the Senate saying he was no longer with the practice and asked for a revocation of his lobbying registration, noting it was an error and he hadn't worked on Miami-Dade County project.
Rubio was also a registered lobbyist in Miami from 1997 to 2005. During Rubio's 2010 Senate race against in Florida, Charlie Crist and Democrats attacked him as a "Miami lobbyist." Rubio's campaign spokesperson at the time called the attack "silly" and said, "Out of an abundance of caution, law firms engaged in this type of work often register their lawyers as lobbyists. In fact, all lawyers representing clients on land use matters are supposed to register as lobbyists. While Marco worked on land use contracts and RFPs, he never met with elected officials to influence them on behalf of clients.