Maine Senator's Marriage Position Remains Murky
BuzzFeed asked Republican Sen. Susan Collins's spokesman if her views have changed on DOMA and marriage equality. The two-paragraph response left the questions unanswered.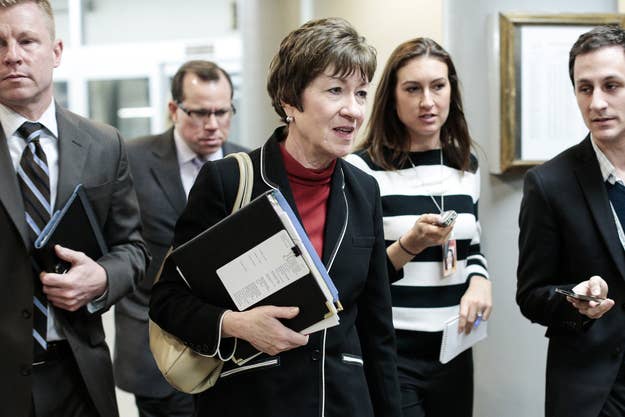 As the Supreme Court hears arguments in two landmark marriage equality cases, BuzzFeed reached out to Maine Sen. Susan Collins — a moderate Republican whose views on the issue may be ripe to change — to see where she stands.
BuzzFeed asked Collins's office to clarify if she opposed DOMA or supported marriage equality. Spokesman Kevin Kelley responded with a lengthy statement without a direct answer to either question.
Here's Kelley's statement:
DOMA was signed into law by President Clinton in 1996, before Senator Collins was elected to Congress. Since that time, in 2004 and 2006, Senator Collins twice voted against amendments to the United States Constitution that would have banned same-sex marriages by pre-empting state laws. Senator Collins believes this matter is best left up to the states, which have traditionally handled family law, and increasingly, the voters of states are choosing to legalize same-sex marriages as Maine did last fall.

Recognizing that LGBT Americans should be protected from discrimination, Senator Collins has led efforts in Congress to extend federal benefits to gay men and women and their families. She has authored legislation that would extend benefits to the domestic partners of federal employees, bringing the employment practices of the federal government in line with those of most large employers. She has cosponsored legislation that would prohibit discrimination in the workplace based on sexual orientation and gender identity. Most recently, Senator Collins became the first Republican in the Senate to cosponsor legislation to update U.S. immigration law to permit American citizens to sponsor same-sex permanent partners applying for legal residency in the United States, and she joined Senator Jeanne Shaheen (D-NH) in introducing a bipartisan bill that would prevent discrimination against lesbian and gay citizens during the federal jury selection process.