Lindsay Graham Dropped A Lot Of F-Bombs Talking To Joe Biden
The South Carolina Senator has harsh words for how his colleagues handled the two-month payroll tax cut extension.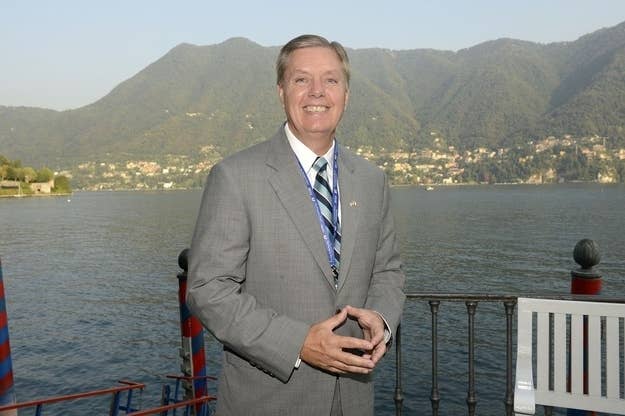 Vice President Joe Biden is often know for his tendency to use off-color language. But during a phone call in December Biden had with South Carolina Senator Lindsey Graham — according to Bob Woodward's new book The Price Of Politics — it was Graham who used off-color language to describe his Republican colleagues. Graham was upset with how his colleague handled extending the payroll tax cut for two months.
McConnell was putting his Republicans on the wrong side of a tax cut debate? No, Biden concluded, McConnell must be up to something.

Biden called his friend, Republican South Carolina Senator Lindsey Graham.

What's going on? Biden asked, reaching Graham at home on Saturday. We can't figure out what you guys are doing, but this looks so dumb it has to be smart. "No, Joe," said Graham. "I know what you're saying. We just fucked this up. It is as dumb as it looks. You all are in the driver's seat. There is no magic game plan."

"What happened?" Biden asked.

"I don't know, but most of us voted thinking that's the best deal we could get and that the House was okay," Graham said. "Do you think I would have voted for this so quickly if I thought it hadn't been a done deal?"

"Just checking," said Biden."

"I'm not fucking with you," said Graham. "I mean, it's not that I'm beyond fucking with you. I'm just not fucking with you here."

Biden still didn't seem convinced.

"Are you all capable of doing this yourselves? Of fucking something up this bad?" Graham asked.

Biden thought for a moment. "Yeah, I could see our guys doing this."

"Well there's your answer," said Graham. "If you don't stick this up our ass, you all need to fire yourselves."
Buy Bob Woodward's new book The Price of Politics