Leader Of Republican's "Business Coalition" Resigns After Inquiry About Domestic Violence Conviction
The CEO was sentenced to 17 months in prison for domestic violence. Following an inquiry by BuzzFeed, he has resigned.
Two weeks ago, Oregon Republican Senate candidate Monica Wehby announced a "small business coalition" led by a CEO of a waste-to-energy company.
The co-chair of the committee was Tim Moles, CEO of Joules Power Inc.
Moles was convicted on domestic violence charges, for which he was sentenced to 17 months in prison in 2002. Moles also pleaded guilty to three counts of assault and one of felony harassment. Court records detail various acts of domestic violence including Moles choking his wife, threatening to kill her, punching her in the face, and dragging her out of a car.
Following BuzzFeed's inquiry Wednesday about Moles' role in the campaign, the Wehby campaign told BuzzFeed he had resigned.
"The campaign was unaware of Mr. Moles' past," a spokesperson for the campaign said. "He has offered his resignation from his voluntary position, and the campaign has accepted."
In addition to the domestic violence charges, Moles was accused of trying to hire a hitman to kill his wife — but that charge was rejected by a judge as part of his trial. According to the Kitsap Sun, a fellow inmate at the jail where Moles was held claimed Moles offered him a share of his wife's life insurance policy for killing her. From the Sun:
Herman Driggers said Moles offered him a share of a $200,000 life insurance policy he had on his wife through the Navy, $1,500 cash and a $3,500 Chevy Blazer, the charge said.

But Superior Court Judge Russell Hartman told prosecutors they filed the solicitation charge too close to the start of trial on the assault charges. That trial was a few days away, and Moles wouldn't have had time to prepare a defense. They'd have to bring the solicitation charge separately later, Hartman ruled.

Prosecutor Russ Hauge said they chose not to do that. Readying witnesses for two trials, some time apart, would be a logistics problem.

And though they had some corroboration of Driggers' claim, Hauge said, Driggers "had just been convicted twice in our court, and we weren't really sure what he would testify to on the stand."
Now the page on Wehby's website where Moles' role was announced returns a 404 error page: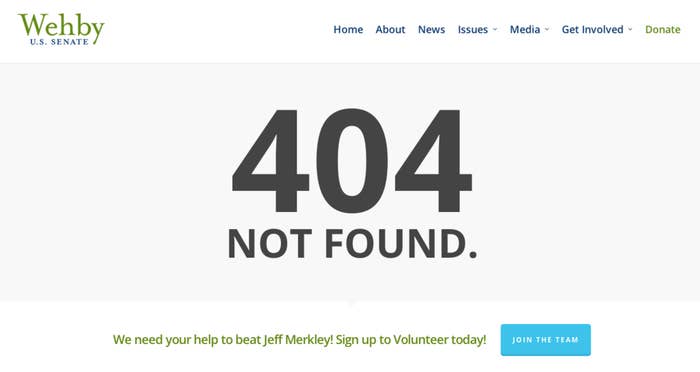 And the tweet announcing the "small business coalition" was also deleted: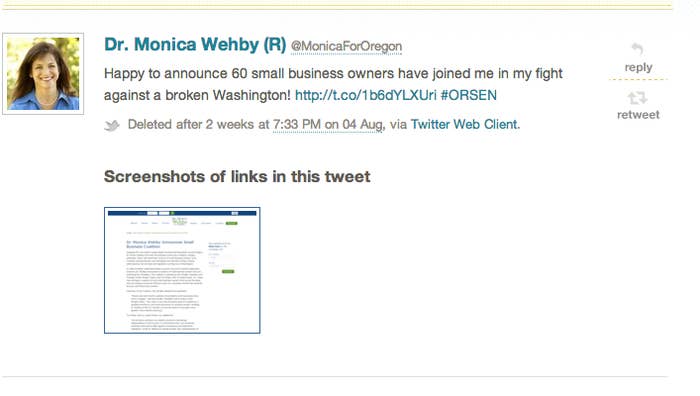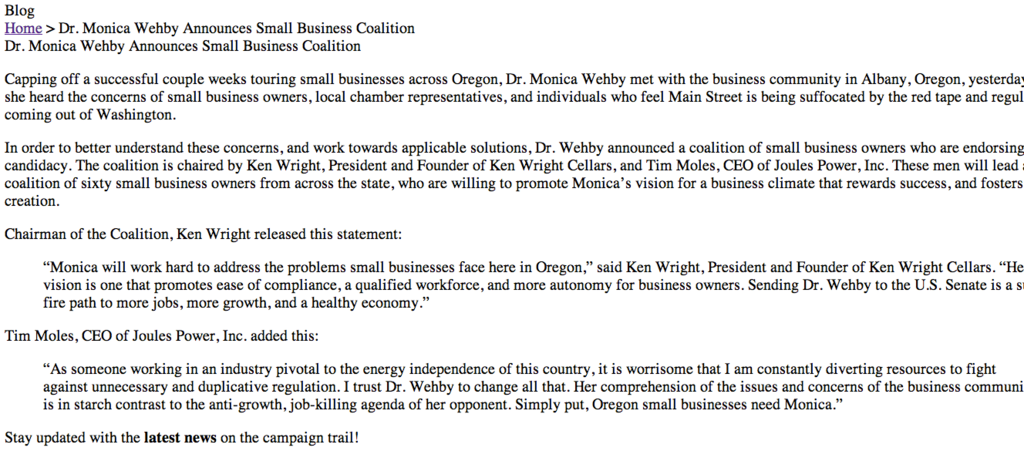 It included a statement from Moles.
"As someone working in an industry pivotal to the energy independence of this country, it is worrisome that I am constantly diverting resources to fight against unnecessary and duplicative regulation. I trust Dr. Wehby to change all that. Her comprehension of the issues and concerns of the business community is in starch contrast to the anti-growth, job-killing agenda of her opponent. Simply put, Oregon small businesses need Monica."
Moles did not immediately return a request for comment.