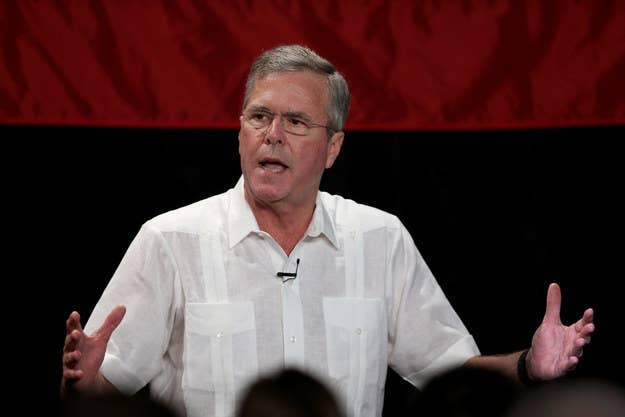 In 2009, former Florida Gov. Jeb Bush sent a letter to Secretary of Labor Hilda Solis advocating an immigration plan developed by the Council on Foreign Relations. That report included in its recommendations an earned pathway to citizenship for undocumented immigrants.
Bush was one of two co-chairs of the bipartisan task force.
The letter, signed by Bush, identifies "a program of earned legalization that offers an opportunity for many illegal immigrants to earn the right to remain in America" as one of three pieces of the plan.
In the report, though, the program of "earned legalization" is described as a "path to permanent residence and citizenship."
"We favor a scheme that allows many illegal immigrants to earn the right to live in this country lawfully and to start on the path to permanent residence and citizenship," read the report.
Spokespeople for Bush have said his preferred position on immigration is legal status, but not citizenship for undocumented immigrants; Bush has also said that he would be open to citizenship in part of a broader immigration compromise. And in his 2013 book, Immigration Wars: Forging an American Solution, Bush wrote that permanent residency should not lead to citizenship as it would reward illegal immigration.
Here's the letter sent by Bush: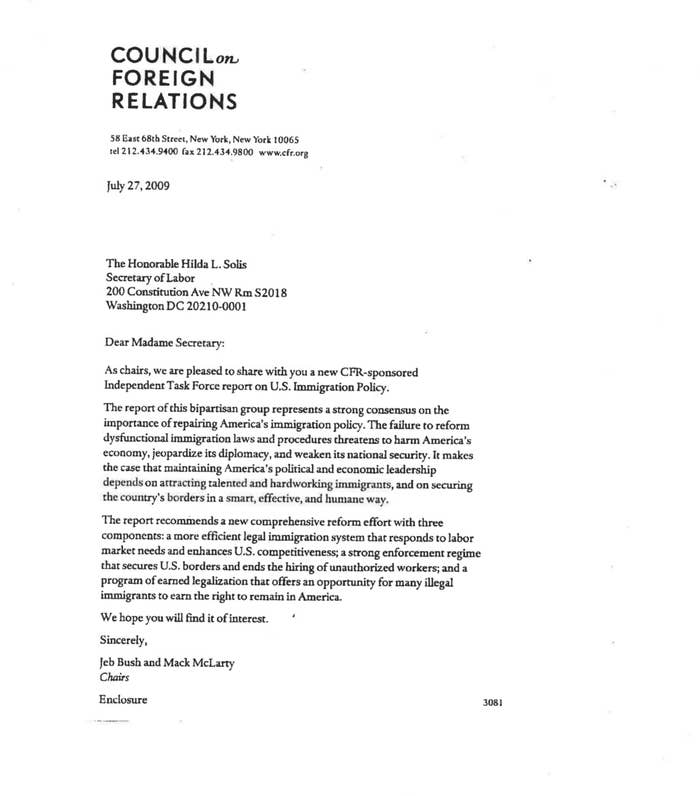 Here's the full report section on "earned legalization":
Earned Legalization

As discussed in greater detail above, the Task Force has concluded that earned legalization is necessary and warranted for many illegal immigrants living in the United States. The current situation is dangerous for American security, corrodes respect for the rule of law, makes those immigrants vulnerable to exploitation, and creates unfair competition for American workers that erodes labor standards. But the Task Force is opposed to amnesty; instead, we favor a scheme that allows many illegal immigrants to earn the right to live in this country lawfully and to start on the path to permanent residence and citizenship.

Creating that scheme, of course, is an enormous challenge facing Congress. The conditions for legalization must be demanding enough that they bar individuals who are either a threat to this country or are unwilling to make the commitments required for full membership in American society. On the other hand, if the conditions are too onerous it may be impossible to bring many illegal migrants into the legal system. Congress has already considered more limited legalization programs that would be an important first step in the right direction. The DREAM Act, for example, which has been reintroduced in the 111th Congress, would provide a path to permanent residence for certain young immigrants—both those here illegally and those whose parents are here on temporary visas and who will no longer be eligible when they become adults. The act sets out stringent conditions for eligibility. An individual must have arrived in the United States before age sixteen, lived here at least five years, and graduated from an American high school or obtained a GED. Those eligible would receive conditional permanent residency for six years, and would then be required to go on to attend college for at least two years or to perform two years of military service. They would also be required to demonstrate good moral character, a stringent legal standard that disqualifies an individual for most criminal offenses, providing false information on documents, or failing to register for Selective Service. At the end of six years, if all
these conditions are met, the individual would be eligible for permanent residence.

The DREAM Act is no amnesty. It offers to young people who had no responsibility for their parents' initial decision to bring them into the United States the opportunity to earn their way to remain here. As such, the Task Force supports passage of the DREAM Act, and believes that it provides a good framework for a broader legalization scheme.
Extending such a scheme to adults who were fully responsible for their decision to come to the United States, and are already working here, produces an extra layer of complexity. Such individuals cannot be expected to earn their legal residency through schooling or military service. But Congress has already considered a number of sound alternatives. The McCain-Kennedy legislation, for instance, would have required applicants to show a history of employment in the United States, to prove that they had paid taxes, to be in the process of studying English and learning about U.S. history and government, to pass criminal and security background checks, and to pay significant fines along with the application fee. Like the DREAM Act, it would have established a six-year probationary period before a green-card application were possible. Some other versions of the legislation have called for a demonstrated knowledge of English and the performance of community service. What is central to these approaches is that they require those seeking legalization to show a history of contribution to the United States through work and taxes, a commitment to remaining by learning English and adopting U.S. democratic values, and a willingness to pay some restitution. These are not the ingredients of an amnesty.

The Task Force recommends that Congress approve a program of earned legalization for illegal migrants in the United States, subject to appropriate penalties, waiting periods, background checks, evidence of moral character, and a commitment to full participation in American society by learning English and embracing American values.
Likewise, in a Council on Foreign Relations interview Bush notes undocumented immigrants if "given a path to citizenship would do what's right and take the necessary steps to achieve legalized status and citizenship."
What happens if there's no reform?
We miss an opportunity in the foreign policy arena. We certainly miss a huge opportunity as it relates to the competitive posture of the United States. One of the real weapons we have in competing economically is our ability to absorb immigrants--legal immigrants--that make huge contributions to our country. And then we ignore an issue that needs to be solved, which is what do we do with people who are here permanently, who have made contributions, who if given a path to citizenship would do what's right and take the necessary steps to achieve legalized status and citizenship. We just can't ignore these problems.
A Bush spokeswoman noted the report included the disclaimer that task force members might not agree with everything in the report. In a statement, the spokeswoman reiterated Bush supports "a pathway to legal status."
"Governor Bush believes our immigration system is broken and unsustainable. He has made it clear that he supports comprehensive reform solutions that will secure the border, reform the system to prioritize the nation's economic needs and provide a pathway to legal status for those here currently that requires these individuals to pay fines, perform community service, pay taxes, learn English and commit no substantial crimes."