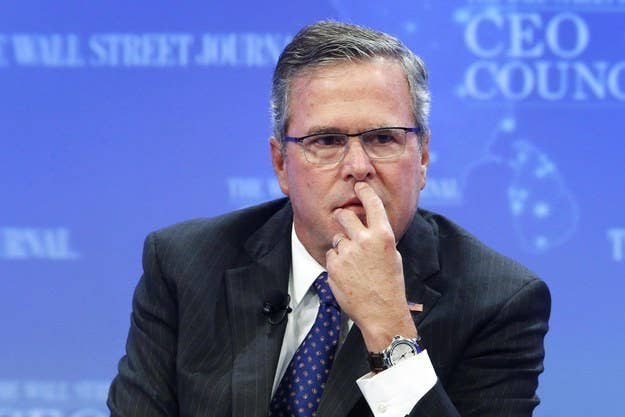 Jeb Bush has said gay couples shouldn't be "discriminated against." He has argued that same-sex parents who "love their children with all their heart and soul" are "examples to others." And he has warned that the Republican Party, whose nomination he may seek next year, is too often labeled "anti-gay."
The former Florida governor hasn't changed his position on same-sex marriage. He opposes it, and has since he first ran for office more than 20 years ago.
But Bush's recent, somewhat sympathetic language about LGBT rights provides a marked contrast to his early comments on the issue — more in rhetoric than policy.
During his first and unsuccessful bid for governor in 1994, Bush argued in an editorial that LGBT people do not deserve special legal protection. "We have enough special categories, enough victims, without creating even more," he wrote.
In the editorial, published in the Miami Herald that summer, Bush drew a parallel between legal protection for gays and the question, "[Should] sodomy be elevated to the same constitutional status as race and religion? My answer is No."
"The statement that the governor must stand up for all people on all matters is just silly," Bush wrote, arguing that government does not defend every Floridian "with equal verve and enthusiasm." He listed a string of examples: "Polluters, pedophiles, pornographers, drunk drivers, and developers without proper permits."
Bush wrote the piece in response to a Herald editorial suggesting that he and his opponent in the Republican primary, Ander Crenshaw, held views on homosexuality that made them bigots. (The editorial focused on Crenshaw, now a congressman, but singled out Bush for reportedly saying employers and landlords should have the right to reject employees or tenants because of their sexuality.)
In a statement to BuzzFeed News, a spokeswoman for Bush said the governor no longer holds the views in the editorial and would not use the language today.
"Gov. Bush believes that our society should have a culture of respect for all people, regardless of their differences, and that begins with preventing discrimination, including when it comes to sexual orientation," said Kristy Campbell, Bush's spokeswoman. "This opinion editorial from 20 years ago does not reflect Gov. Bush's views now, nor would he use this terminology today."
On Sunday, asked about a federal court injunction allowing same-sex marriage in Florida, Bush said same-sex marriage should be decided at the local level. That statement comes as court rulings across the country have introduced legalized marriage for same-sex couples in many states over the last year.
The next day, Bush made fuller remarks to the New York Times and said that the "rule of law" must be respected "regardless of our disagreements."
The 1994 editorial is one of the more striking examples of the conservative language with which Bush used to speak about LGBT issues — rhetoric that perhaps matched the time, but has shifted drastically since he won his race for governor in 1998.
"The only thing that seems to have changed is his tone," said Nadine Smith, the executive director of Equality Florida, a leading LGBT rights group in the state.
Smith, a longtime activist in Florida, has followed Bush's stance on LGBT policy closely since his first run for governor. She recalled a 1994 ballot measure he supported that sought to ban state laws protecting gays from discrimination.
The constitutional amendment, ultimately thrown out by the Florida Supreme Court on procedural grounds, was proposed by David Caton, the founder of the American Family Association, a Tampa-based group. (In the summer of 1994, Caton's group endorsed Bush over Crenshaw, his opponent in the Republican primary, according to news coverage at the time.)
And at times, Bush found himself on the defense for his support for polices like the Caton ballot measure. During his first campaign for governor, according to news accounts at the time, he responded "sternly" to a lesbian couple heckling him at an event, saying, "I don't believe we need to create another category of victims."
Bush long used the language of victimization to describe LGBT activism.
In his 1995 book, Profiles in Character, Bush described the "gay rights movement," "feminist movement," and "black empowerment movement" as "modern victim movements."
These activists, he wrote, "have attempted to get people to view themselves as part of a smaller group deserving of something from society."
During his two terms as governor, from 1999 to 2007, Bush maintained his views on same-sex marriage. Ahead of a 2008 campaign for a constitutional ban on same-sex marriage in Florida — already illegal in the state at the time — Bush initially maintained that such a proposal would be unnecessary. He later backed the ban.
Bush announced last month he would "actively explore" a White House run.
Should he launch a campaign, Bush would face likely candidates such as Sens. Marco Rubio and Rand Paul, as well as Gov. Chris Christie. There is no possible presidential contender on the Republican side who publicly supports legalized marriage for same-sex couples.
The full text of Bush's 1994 editorial reads as follows:


The Miami Herald
June 22, 1994 — Wednesday

JEB BUSH: NO SPECIAL LEGAL STATUS FOR GAYS

Re the June 20 Herald editorial Bigotry and its mouthpieces about the gubernatorial candidates' position on homosexuality and special legal rights for homosexuals: Homosexuality is wrong, but it is also wrong to discriminate against homosexuals in employment, housing, etc., solely on the basis of sexual preference. I have employed homosexuals and continue to do so. Therefore, I take vigorous exception to your characterization of me as a bigot.

However, I do not believe that government should create a new class of citizens with special legal rights.

It is disingenuous of you to write that "the governor must stand up for and represent all the people of the Sunshine State on all matters." You imply that discrimination is always wrong, yet government and individual Floridians discriminate every day in innumerable ways. Government discriminates against bank robbers, drug dealers, litterbugs, and homeowners who repair their seawall without a permit, just to name a few. Yours is not a reasoned argument reflecting reality.

The governor — and the government — do not defend the conduct of every Floridian with equal verve and enthusiasm. Polluters, pedophiles, pornographers, drunk drivers, and developers without proper permits receive — and deserve — precious little representation or defense from their governor. The statement that the governor must stand up for all people on all matters is just silly.

The public policy question is whether homosexuals deserve special legal protection from otherwise legal, private acts of discrimination, which protections are not available to smokers, drinkers, children, redheads, Midwesterners, Democrats, veterans, nudists, etc. Or, to put it another way, should sodomy be elevated to the same constitutional status as race and religion? My answer is No. We have enough special categories, enough victims, without creating even more.

Jeb Bush
Coral Gables