Is A Republican Congressional Candidate Buying Facebook Likes From Thailand?
Thailand was the top location for likes on Leslie Gooch's page. When asked about it, her campaign denies it, and accuses her primary opponent of doing it.
Leslie Gooch is a longtime aide to retiring Republican Rep. Gary Miller of California. She is running to replace Miller in the 31st district and faces an uphill battle as the district is majority Democrat.
Her Facebook page has 824 likes.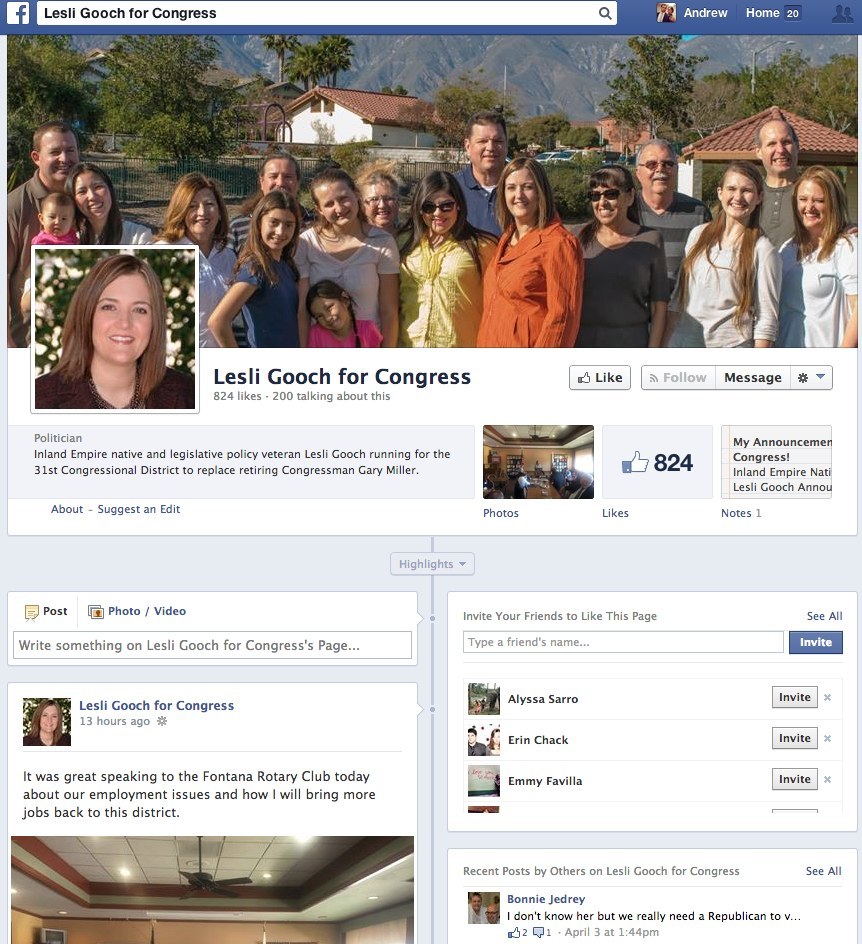 The majority of her Facebook likes come from Bangkok, Thailand and the number saw a dramatic spike in the last few weeks.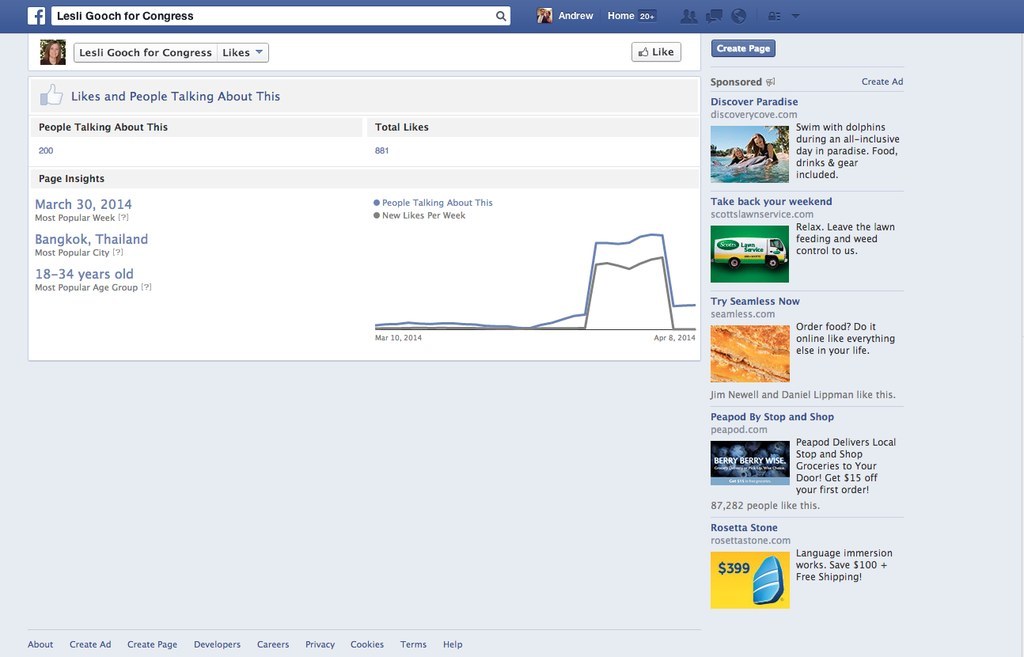 The number goes up and down depending on when you refresh the page. On some refreshes, the number goes well below 800.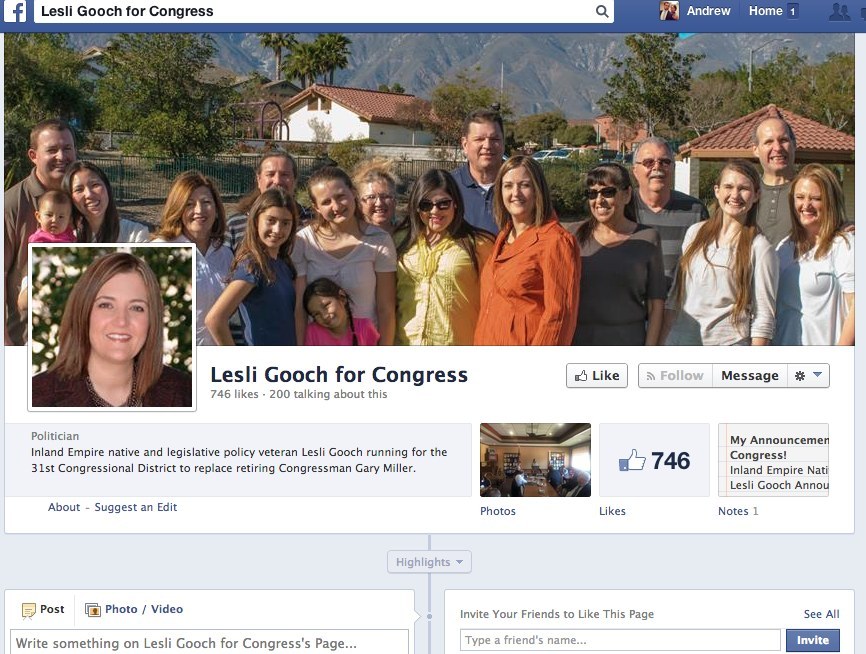 Her likes seem to be fluctuating over the past week, a cached version of her page shows a high of 975 likes.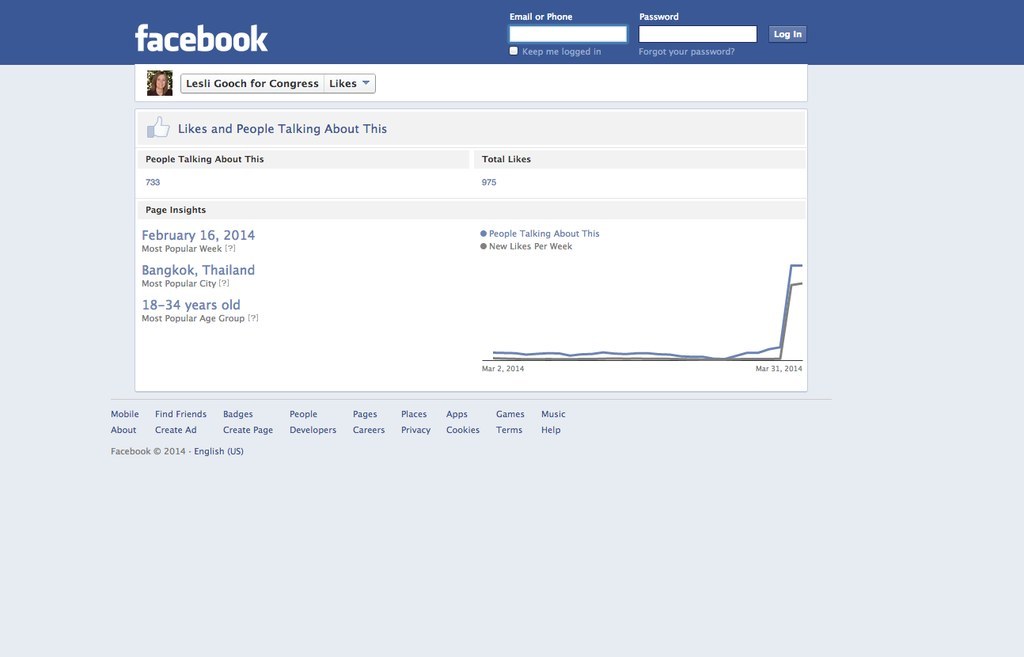 When asked about whether the campaign was buying likes, sources in the Gooch campaign denied they did so and accused a rival campaign of "playing Facebook games."
"We are not buying Facebook likes," one source with in the campaign said. "We are working Facebook to confirm where the digital trail leads. Apparently someone went to addmefast.com and made a purchase to Leslie's page."
The source attacked an aide who works Gooch's primary opponent, Paul Chabot, of "playing Facebook games."
A spokesman for Gooch's campaign also attacked Chabot, accusing him of both buying the Facebook likes and "attacking women."
"Everybody knows Paul Chabot is a joke who plays Facebook games and attacks women – he's total bushleague [sic] and not fit for Congress," campaign spokesman Jeff Corless wrote in an email to BuzzFeed. "Its [sic] completely sexist for Chabot to condone an attempt to link his female opponent to the prostitution capital of the world. Anything short of a formal press release from his campaign denouncing this behavior is unacceptable and considered an endorsement of it."
A strategist with the Chabot campaign said "of course we didn't" buy Gooch the Facebook likes. Chabot said the accusations were "unfounded and show me the proof."
A campaign source provided this internal analytics screenshot showing her campaign's Facebook page likes no longer were mostly in Bangkok.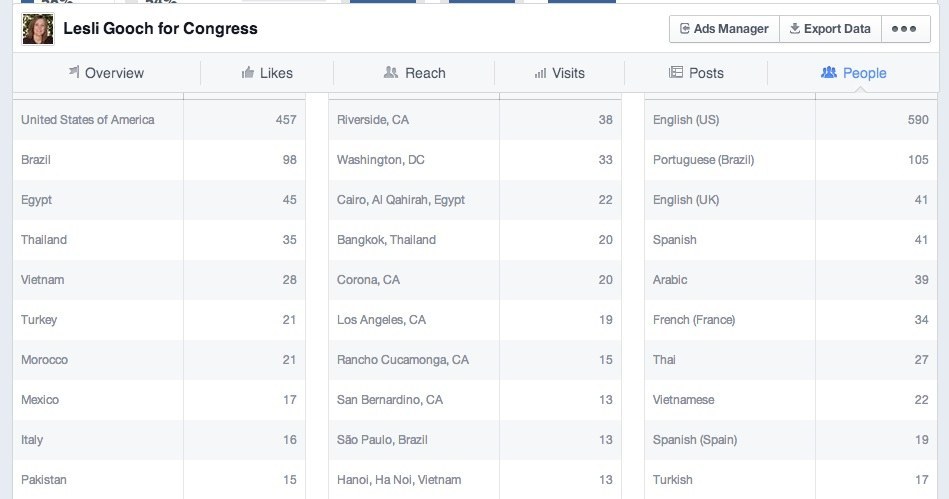 A request for verification from the Gooch campaign that they had reached out to Facebook was not immediately returned at press time.