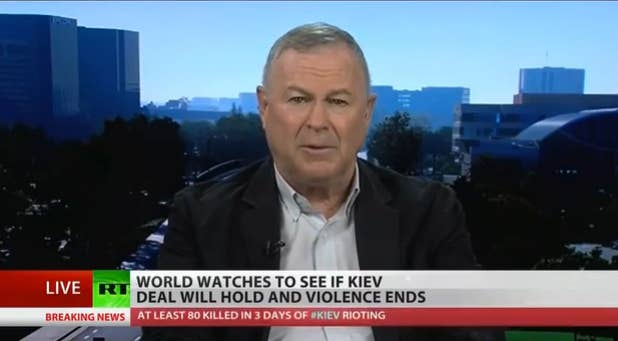 Republican Rep. Dana Rohrabacher said Monday that while he doesn't support Russia taking military action in Ukraine, "that doesn't mean Putin and pro-Russia forces in Ukraine are in the wrong," in an interview with BuzzFeed.
Rohrabacher also said he stands by comments he made last month on Russian television network RT about the Ukraine-Russia tensions. In the Feb. 22 interview, Rohrabacher said Russian President Vladimir Putin is "demonized by a lot of people here when he's ever watching out for Russia's self-interest."
"We're acting as if it was the old Cold War days, and it was a communist overture to do something — to dominate the world," Rohrabacher told RT. "Well, Putin has a right to watch out for the interests of the people there [Ukraine], just as the way we do in the United States, and just as the Ukrainian government should be doing watching out for the interests of the people of Ukraine."
In the interview with BuzzFeed, Rohrabacher described Putin as trying to protect Russian interests in the region, saying Putin "has a right to be upset" with the ousting of the democratically elected government under President Viktor Yanukovych, who was pro-Russian.
Rohrabacher also briefly described to BuzzFeed traveling to Afghanistan following his election to Congress in 1988 to fight the Russians alongside the mujahideen. Rohrabacher described participating in the Battle of Jalalabad after his November election, two months before he was sworn in.
"I was part of a team that shot a rocket onto a Russian position," Rohrabacher said. "We received return fire."
Rohrabacher said he had been helping the mujahideen as part of the Reagan administration and wanted to actually participate himself, but said the time after he was elected "was the only time I was free."
Discussing his anti-communist work in the 1980s, Rohrabacher said, "I was Vladimir Putin's worst nightmare."
Here are Rohrabacher's Feb. 22 comments on Russia: