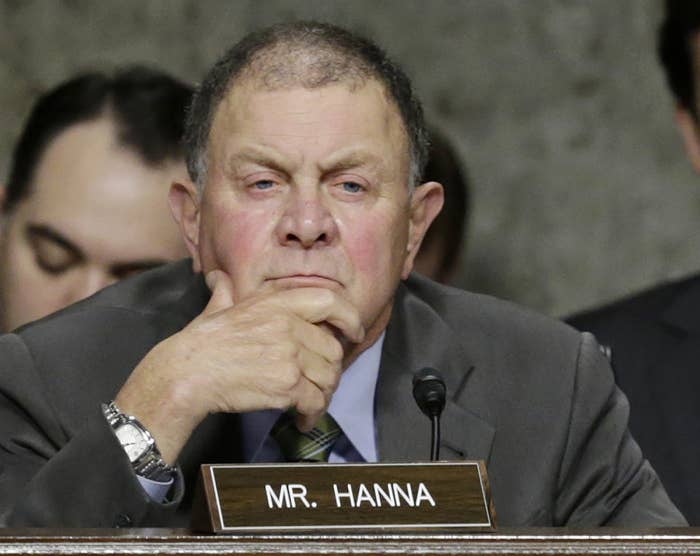 Last week, Rep. Richard Hanna of New York became the first Republican member of Congress to say he would cast his ballot for Hillary Clinton for president.

Hanna, who is retiring this year from Congress, expanded on his position in a local radio interview on Tuesday on 100.7 WUTQ's Talk of the Town radio program.

Hanna called Trump's comments about the parents of a US soldier killed in Iraq in 2004 "shameful" and one of the worst things he'd ever seen. The congressman said Trump didn't understand basic international affairs and said a vote for a third party candidate instead of Clinton would be throwing his vote away.
"I believe that she can do the job and the Republican Party, who I think damaged itself by pandering so deeply to its extremes, has alienated so many categories of people in this country. You know, young people, women, Hispanics, the LGBT community," he said.
Hanna went further, calling Trump, unhinged.
"He's unhinged," he said. "It's difficult to imagine why anyone could support him. He comes across as a demagogue. He comes across as a guy who, frankly, Putin has made a fool of. The ways, the reasons not to support him are growing by the day."
Here's the transcript:
INTERVIEWER: You've said from the very beginning that you weren't supportive of Donald Trump's candidacy. But what really, was there say a final straw that pushed you to come out and make the statement you did?



HANNA: You know, there's that straw that broke the camel's back. No, not really. Certainly what he said to a Gold Star family, Captain Kahn, was beyond the pale. It was incredibly insensitive and un-empathetic to a family who'd lost a son and, unapologetic as he was, it was shameful. I would say that any military family in the country should dismiss him as a potential person to vote for. It was one of the worst things I'd ever seen. But, beyond that, it's just his insults to women, to handicapped people, to just about everybody without, unapologetically, just mean-spirited and aggressive as he could be regardless of how someone treated him initially. You know, you look at his personal history, thousands of lawsuits against people and bankrupting people. Here's a billionaire who uses bankruptcy laws to break people and does it and defends it. The list of things that he's done, his attitudes, his inability to grasp facts. I mean not knowing that the Russians are in Crimea, talking about NATO the way he does. It's just endless. And he's unqualified, unfit, and he doesn't represent very much at all that I could ever support. I felt that from the beginning. I was the first one in the caucus to say I wouldn't support him, and I've only become more hardened in that position. I know a lot of people agree with me. You look at the New York Times this morning, there are 50 national security advisors from a number of different administrations, Republican administrations, who have said blatantly they won't support him. Patently, they will not support him and they go on and on about why they wouldn't. I understand people are frustrated and angry and many people feel left behind, but that's not a reason to support Donald Trump.

INTERVIEWER: Some of your less stridently conservative detractors have suggested, well, maybe at least you could supported an independent candidate. Would you have done that had you felt strongly about one of the independent candidates?

HANNA: No. Why throw your vote away? I think that what, that's fine, people can do that, but my job, the job that I have, is to make tough decisions and defend them. And, you know, everybody has issues big or small with Hillary Clinton. I don't know her personally, but I've watched her story. I understand the concern over emails and it's no small thing, but at the end of the day she's the lady who has experience, knowledge, and a history that you can look at and have some degree of comfort that she won't blow the world up. I don't feel that way about Donald Trump at all. And, to be frank, Hillary Clinton supported great many issues that I care about. So it's not a compromise position for me entirely. I believe that she can do the job and the Republican Party, who I think damaged itself by pandering so deeply to its extremes, has alienated so many categories of people in this country. You know, young people, women, Hispanics, the LGBT community. If you really want to get important things done, I think the Republican Party needs to bring back that libertarian arm that doesn't want to involve itself in people's personal lives and is willing to accept the fact that tolerance is also a value, that pluralism matters, and that in a society that's successful, in order to have peace, people have to feel as though they have involvement. Compromises produced those things that we may not all agree on but at least allow us to move forward as a society. I think we've lost sight of that. I think both parties have, frankly.

INTERVIEWER: Most of the criticism I've seen lobbed at you has to do has to do with the idea that you betrayed the Republican voters that elected you to office. How do you [respond to the criticism]?

HANNA: I'll tell you what... we've have had hundreds of calls from Republicans supporting us. I think that's part of the problem. The Republican Party has not pushed back on its extremes. They want to have everything their way and nothing else. That's wrong. What I do in my office every time we vote on a bill, we write a detailed explanation. We've written almost 900 of them. I have a little over 80 percent voting record with the party. I think that's good enough. I didn't go there to be a right-wing rubber stamp. I went there to represent my community, which has 700,000 people, and not the 15,000 that show up in primaries. They can be angry, and I get it, and I respect their positions, but I don't have to agree with them. I have to listen and balance everything against what I know the facts are on the ground, and that's what we do. I completely understand that they would be disappointed, but they've got to understand that these constant attempts by both parties to run the table, to have the House, the Senate, and the presidency so they can have 100 percent of what they want doesn't work. It doesn't create peace, it doesn't allow the country to move forward, and what I see in Congress, the most common denominator there is fear. Fear of losing their job. Fear of not raising enough money. Fear of angering their base. Fear of saying what they think. I don't do that, and I'm not gonna do that, and I don't get paid to do that. I try to respect everybody, we try to speak in calm, kind-hearted terms and listen well, but I'm just not there for them on this issue. I think Trump is dangerous and if you watch Susan Collins last night from Maine agrees with me and many other Republicans do. And if they think the Republican Party is afraid of Trump, they're wrong. They're not afraid of Trump. There are a lot of good people who look at him and say 'you know what, he's just unfit.' It's not about who he endorses or who he doesn't or anything else. There's certainly some of that, but it's also a matter of watching this man talk over time. He's unhinged. It's difficult to imagine why anyone could support him. He comes across as a demagogue. He comes across as a guy who, frankly, Putin has made a fool of. The ways, the reasons not to support him are growing by the day.

INTERVIEWER: Do you think you'd be as vocal [if you weren't retiring], or do you think that this is just something you felt you had to say?

HANNA: No, I had to do this. Our lives depend on the success of this country. The lifestyle, our values, everything about this country going forward. It's critical. I've got two young kids. I see this man as dangerous, I don't, I frankly worry about the future in profound ways if he was ever elected. He seems to think that everything in his mind is adequate to make the kinds of decisions he has to make as president of the United States, the most important office in the world. I see him as singularly unqualified. That's where I am. [Discusses local race and his successor in the district.]

INTERVIEWER: Do you feel there was no or little backlash from Republicans and what were some of the conversations after you did make your statements public?

HANNA: We run a smart office. We're well respected and I'm not a bomb-thrower. I don't with the party on a number of things, but I try to do it politely and thoughtfully and we do. As I said, we write about what we do. I have not heard a single negative word about what I've done from a member of the Republican Congress. I know that many people agree with me. As you've seen, Charlie Dent, Adam Kinzinger, and some others, and now Susan Collins, they're there to govern. They want to have stability, they want to make hard decisions and move forward, they want tax reform and immigration reform, fully-funded highway fund, a lot of things that we just haven't gotten done. These ideologues from the right and the left that don't allow compromise in the middle are holding this country back. No, I haven't heard a single complaint. That may be hard for people to believe.

INTERVIEWER: Do you trust Hillary Clinton to run the country and to hold to commitments that she might make?

HANNA: I do. I think that the trust word is a big issue. We know she has issues. Nobody can deny that. But we have a choice here. We've got Donald Trump or Hillary Clinton. Someone with experience, knowledge, and a background, somebody who has been secretary of state, senator from New York, who was married to a past president, who certainly knows the ins and outs of this job that she wants to get. So, juxtaposed to Trump, I think that there's no question that she's the better person.
Nathaniel Meyersohn contributed reporting to this story.