Former Mortgage Scammer Cleaned Ebola Doctor's Apartment
The attorney general flagged the contractor. The city says the work was performed correctly, but says the situation is under review.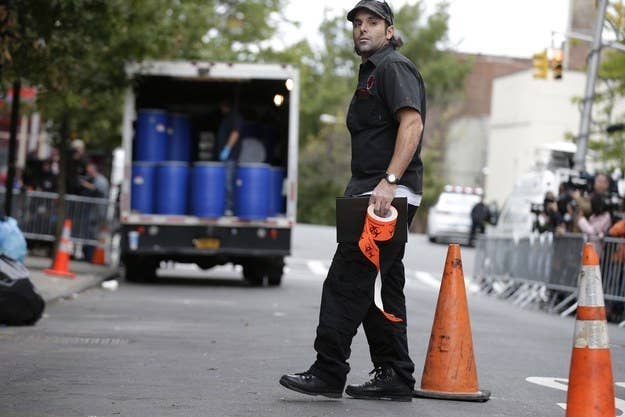 The public face of the cleanup of the home of a New York doctor infected with Ebola is a former mortgage scammer and convicted felon released from prison in 2011 whose company won the high-stakes city contract despite his well-known recent past.
Mayor Bill de Blasio's aides have known of Salvatore Pane's background since Monday, officials confirmed to BuzzFeed News, and City Hall quietly stopped working with his firm — but a City Hall official defended his work.
New York State Attorney General Eric Schneiderman flagged the contract because his office — led at the time by now-Gov. Andrew Cuomo — won a judgment against Pane and his previous companies in 2010 for "engaging in fraudulent and illegal acts," officials said.
Pane's practice of extracting money from New Yorkers under the guise of helping them with crushing mortgages had a New York Times column devoted to it. Now he's a leading public face of New York City's emergency response. He was interviewed by Al Jazeera America, Fox News, and in the New York Times; Bloomberg News reported that Cuomo personally called Pane to put Bio-Recovery on the Ebola case.
But none of those reports have drawn the connection between the handsome cleanup technician — pictured in Reuters photos outside the doctor's Harlem apartment — and the mortgage cases, perhaps because Pane has changed the spelling of his last name to "Pain."
"Our attorneys became aware of this situation on Monday and we immediately notified the mayor's office and the governor's office," Damien LaVera, the communications director for Attorney General Eric Schneiderman, told BuzzFeed News Friday. "We will continue to monitor the situation, provide any assistance our state and city partners request, and take any actions we deem necessary to protect the public interest."
Pane, in an interview, rejected any connection between his past and his Ebola work, and confirmed his past criminal and civil legal issues as well as having changed his name.
"I hope I've done what I've had to do to rebuild my life," he said. "I'm not a bad guy."
A de Blasio aide said the New York City Department of Health and Mental Hygiene verified that officials checked the cleanup of the apartment afterward, and found the work was successful and the job was performed correctly. There have been no allegations of subpar work by Bio-Recovery employees, according to the city.
"The city first became aware of this situation this week, and has been reviewing the facts," Phil Walzak, a spokesman for the mayor, told BuzzFeed News on Friday. "Bio-Recovery has not received any further work from the city as we review this situation."
Melissa DeRosa, the communications director for Gov. Andrew Cuomo, said that after being alerted of the claim that the governor had contacted Pane, state officials checked to see if the state had any contracts with Pane. DeRosa told BuzzFeed News that Pane has no contracts with New York state.
Alerted to a statement — unsourced in the Bloomberg News report — that Cuomo had sought out the man he sued in his capacity as New York attorney general just four years ago, DeRosa said, "This is completely false and ... deeply disturbing."
Asked about the reported call from Cuomo, Pane denied he'd ever claimed to have spoken to the governor. He told BuzzFeed News, "We were on call with every high-level government official, but I can't speak to if Gov. Cuomo was on the call." Cuomo's office said no high-level officials spoke to Pane.
A city aide confirmed that Bio-Recovery was on calls with health officials related to the apartment cleaning, but said no commissioners or top City Hall officials were on the call to their knowledge.
In addition to Dr. Craig Spencer's apartment, Bio-Recovery also cleaned Gutter, the Brooklyn bar and bowling alley where Spencer had gone earlier this month.
"We cleaned every square inch of the place — every hole in every bowling ball," Pane told the New York Post. "Every pin, every lane, every receiver, every sink, every toilet. We disposed of all paper goods, anything that was open — all toilet paper rolls. Because it's a bowling alley, we had to chemically strip the oil from the floors."
But just a few years before he was playing a key role in a global public health crisis, Pane was in a different business — one in which he also marketed himself effectively, and one which ended badly.
In the late 2000s, Pane ran two distressed mortgage companies, American Modification Agency and Amerimod, and appeared widely on television as an expert on how to help people with troubled mortgages fix their problems. In 2010, Pane and his company "engaged in fraudulent, deceptive, and illegal business practices that violated New York's consumer protection and real property laws," according to a pleading filed by then-state attorney general Andrew Cuomo. Justice Emily Jane Goodman of State Supreme Court in Manhattan filed a permanent injunction against the companies.
On unrelated charges, Pane spent nine months, from June 2010 to March 2011, in jail for operating a vehicle without a license — first-degree aggravated unlicensed operation of a vehicle, according to prison records, which is a felony.
In an interview with BuzzFeed News, Pane was adamant that Bio-Recovery is an upstanding company and separate from his past. He said he had begun doing cleanup work in 2001, working at his neighbor Vincent Santella's company. Pane said the two did work for, and were partners with, the late Ron Gospodarski, the first owner of Bio-Recovery, who died in April 2013. "We all worked here and then we started working together," he said.
"Let's not hurt a good company. If it does I'll resign," he said. Pane said he had changed his surname from Pane to Pain because of an incident with a stalker.
In television and radio interviews, Pane has said the firm has more than 20 years of experience in crime scene cleanup. During the anthrax scare of 2001, Bio-Recovery decontaminated ABC Studios in Manhattan; the firm was then owned by Gospodarski. Pane told BuzzFeed News that another Bio-Recovery employee, Vincent Santella, bought the firm from Gospodarski's estate, though public documents weren't immediately available to confirm the details of the transaction.
City documents say Bio-Recovery has been a contractor for city agencies for the last six years, but there is no standing contract, and Bio-Recovery is contracted on a case-by-case basis. The contracts are too small, a city official said, to require detailed disclosure in the city's Vendex program, which was created to screen out questionable contractors.
And the continuity between the company's old and new ownership is far from clear.
A former employee of Bio-Recovery, Manny Sosa, told BuzzFeed News on Thursday, "They are not the company we were. I have no idea who they are."
Pane said he knew Sosa, and charged that Sosa had been fired three years before Gospodarski's death.
When asked about Pane's comments on Friday, Sosa reiterated that he did not know Pane or Santella. He said he had worked for Gospodarski since 1999, and left on his own.
Today, Bio-Recovery is one of four crime scene cleanup entities connected with Pane: Bio-Recovery, All Island Bio-Recovery, Long Island Trauma, and the Crime Scene Cleanup Association.
EPA records list Pane as the operator of All Island Bio-Recovery and Santella as the regulatory contact.
When called, phone numbers on each of the websites go to the same business — Bio-Recovery. Additionally, many of the testimonials across the three sites — Bio-Recovery, All Island Bio-Recovery, and Crime Scene Cleanup — are identical. Two of the websites feature many of the same photos of cleanup sites.
Pane confirmed to BuzzFeed News that it is one business, and said the different sites are a "marketing" tactic.
Multiple calls to other Bio-Recovery employees by BuzzFeed News were not returned.
There is at least one questionable claim on Bio-Recovery's website.
On the about page of its website, Bio-Recovery claims to have an A+ rating from the Better Business Bureau, "for its many years of excellent service." When the link is followed, Bio-Recovery's profile on the website says the business is not accredited with the organization.
When contacted by BuzzFeed News, a source at the Better Business Bureau said Bio-Recovery's use of the BBB seal on its website is against policy.
"They will be receiving a cease and desist letter" for using the BBB seal on the Bio-Recovery website, the source said. "It's trademark infringement."
Mike Hayes contributed reporting.