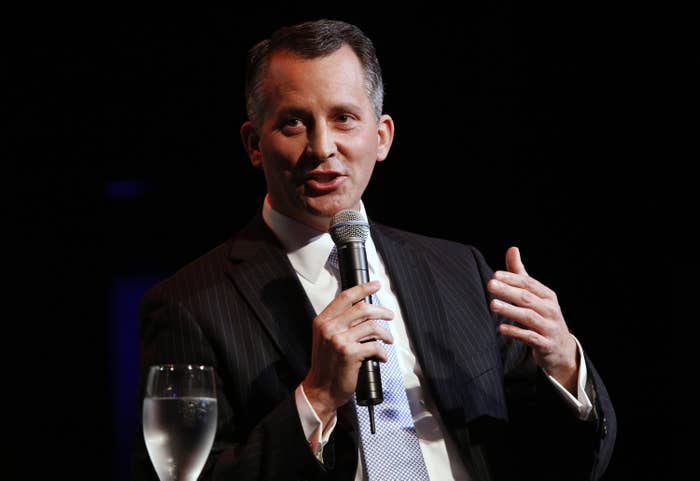 A campaign spokesperson for Rep. David Jolly, a Republican Senate candidate in Florida, admitted to BuzzFeed News on Tuesday that the campaign has edited Jolly's Wikipedia page to remove unflattering information.
Sarah Bascom, Jolly's spokesperson, confirmed that the campaign removed references to Jolly's past career as a lobbyist, his association with the Church of Scientology, his support for same sex marriage, and political contributions he made to Democratic candidates. Bascom accused a unspecified rival campaign of adding what she described as "campaign propaganda" in the first place.
Two edits were made — one on March 15 and one on April 4 — by a user named "Bascomcomm". Bascom is the president of Bascom Communications & Consulting, a political firm in Florida.
"We were notified a few months ago that a consultant who works for one of our us senate [sic] opponents has been intentionally editing the David Jolly Wikipedia page to follow their opposition research messaging so they can use it in a mail or digital campaign," Bascom told BuzzFeed News in an email.
"Once we found about it, we went in and attempted to correct his page to be consistent with all of his public bios."
Each piece of information deleted by the campaign was cited, and some of it has been included in his Wikipedia page for more than a year. After the Jolly campaign deleted the information the first time, on March 15, it was reinstated later in the day by another user. On April 4, the campaign again deleted the information before it was again reinstated.
Asked by BuzzFeed News which Wikipedia users were associated with a rival campaign, Bascom pointed to two users named "CFredkin" and "Champaign Supernova." Both users have a long history of Wikipedia editing of politicians on both sides of aisle, dating back years. In 2014, "Champaign Supernova" was awarded a Wikipedia "Barnstar Award" for editing the pages of members of Congress. "CFredkin" received a "Barnstar award" as well.
Bascom, asked abut the user's credentials responded, "Yes, we are aware of that. We disagree with his rejection of our edits, and the fact that he is mainly rejecting our edits but not the ones made months ago by someone clearly wanting a public negative narrative against David Jolly. And the other user is who we have been told is tied [to} an opposing campaign."
User "Champaign Supernova" didn't respond to a request for comment on their Wikipedia Talk Page about the accusation for the Jolly campaign.
Bascom declined requests to name the rival campaign she is accusing of editing Jolly's Wikipedia page.
"I have been told by numerous people who is behind it, but I can't use that," she said. "That would be unethical."
One line removed, read:
Jolly's relationship with the Church of Scientology, which is based inside his congressional district in Clearwater, Florida, has been reported on in the press, including Jolly's attendance at various fundraising events hosted by the organization.
It was replaced by another:
Jolly has filed legislation to provide additional and more permanent flood insurance relief, improve health care and education choices for our veterans, extend the life of ongoing beach renourishment projects for Pinellas County, and provide for investments in transportation and infrastructure, health care research and education. Jolly has also worked to eliminate wasteful government spending and cap the total tax burden on individuals and families.
The campaign also deleted a sentence that said Jolly was pro-life, but linked to an article that reported he had donated to Rep. Allyson Schwartz, a former Democratic congresswoman from Pennsylvania who was also an executive at a Planned Parenthood clinic in Philadelphia.
They also removed all mention of Jolly's previous career as a lobbyist.
One passage initially read:
In 2007, Jolly began work as a lobbyist with Washington, D.C. firm Van Scoyoc Associates. Eventually, he opened his own firm, Three Bridges Advisors in 2011, and contributed political donations to both Republicans and Democrats during his time as a lobbyist. Jolly officially had his name removed from the Lobby Registry to run for the vacant House seat.
But was replaced with:
Before his successful bid to represent Florida's 13th Congressional District, Jolly served as a vice president of a Clearwater-based specialty finance firm, as well as chief executive officer of a Pinellas County professional services company supporting life-cycle philanthropy of non-profits and individuals. Prior to that, Jolly created and owned multiple businesses, including a communications firm, a law firm and a consulting firm.
Mention of his divorce and support for same-sex marriage were also removed.
Additionally, the campaign made small, cosmetic edits. One edit changed a subhead from "Committee on Appropriations," to "House Committee on Appropriations." Another altered "75%" to "75 percent", and lowercased the title "General Counsel".