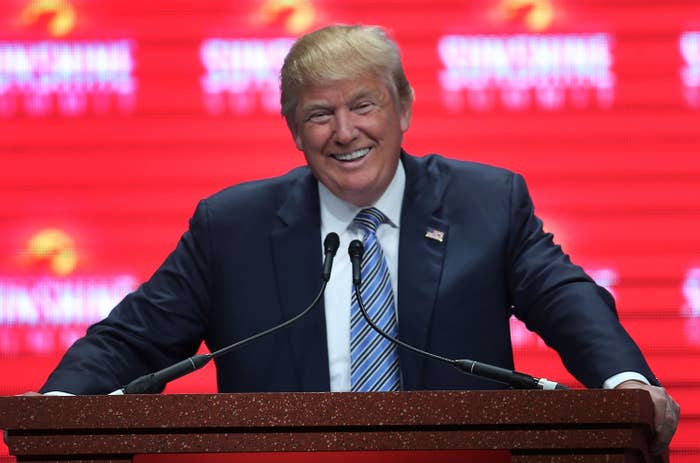 Donald Trump has the world's greatest memory, he says.
But that hasn't stopped The Donald from conveniently forgetting to know who people or organizations are when it suits him best.
After being ripped by the New York Times for mocking a reporter with a disability at the Times at a campaign rally, The Donald issued a statement saying he didn't even know who the reporter was.
Serge Kovaleski, who has arthrogryposis, told the Times he's met The Donald dozens of times and that he and The Donald were on a first-name basis for years.
For another example, take former Klansman David Duke, who in August said Trump was "certainly the best of the lot" running for president.
"I don't need his endorsement. I certainly wouldn't want his endorsement. I don't need anybody's endorsement," Trump said on Bloomberg Politics in August when asked if he'd repudiate Duke. "I would do that if it would make you feel better. I would certainly repudiate — I don't know anything about him. Somebody told me yesterday, whoever he is, he did endorse me. Actually I don't think it was an endorsement."
"Whoever he is," indeed. While Trump purported not to even know who Duke was, in 2000 he cited the former Klansman as a reason he would not run for the Reform Party presidential nomination.
"The Reform Party now includes a Klansman, Mr. Duke, a neo-Nazi, Mr. Buchanan, and a communist, Ms. Fulani," Trump said that year. "This is not company I wish to keep."
Duke even gets cited in Trump's 2000 campaign book, The America We Deserve.
Next, take The Club for Growth.
"I had never even heard of the Club For Growth," Trump told Beitbart amidst his spat with the conservative organization over his record on taxes in November.
But Trump has himself, again, mentioned the organization before, in 2011, when his record on taxes was questioned at the time.
"Me? A liberal? What is the Club for Growth and who are they supporting? Because I understood — I had heard about this just a little while ago. I had heard that they have a favored candidate, whoever that may be," Trump said on ABC's This Week in 2011.
According to Politico in 2011, Trump also had a call with the organization's head that year too.
Then, take CNN host Michael Smerconish.
"You have some guy named Smerconish who I've never even heard of...," Trump said on Fox and Friends in May 2014 when talking about former Clippers owner Donald Sterling.
And yet, one month earlier Trump slammed the CNN host in a pair of tweets.
"I can't believe that CNN would waste time and money with @smerconish — he has got nothing going. Jeff Zucker must be losing his touch," tweeted The Donald.
"What a boring show! Snooze fest," Trump quoted another user saying about the host.
Or, take, finally, political operative Aaron Borders, a man Trump's campaign manager was caught on tape threatening to sue for recording his phone calls after he denied having done so to BuzzFeed News.
Despite Trump campaign claims they didn't know who Borders was, emails and phone calls showed him communicating with the Trump campaign. The campaign cut ties to him after BuzzFeed News found racist posts on Borders' Facebook.