Donald Trump Has Even Flip-Flopped On Bigotry
Does he stand for anything?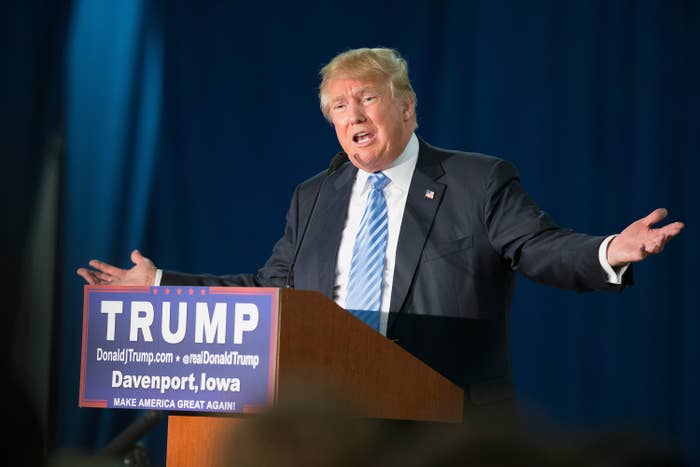 As Republican front runner Donald Trump has rooted his campaign in anti-Muslim, anti-immigrant rhetoric, the question has been raised: Does Trump mean this? Is he articulating the wishes, as his campaign signage says, of Nixon's "silent majority"? Or is he just saying whatever it takes to get attention and support?
Even as his repeated shifts and flips on all kinds of positions have been covered extensively this year, Trump has been portrayed by supporters as a straight-talker who says the thing others are too afraid to say.
A detailed review of old interviews over the last decade — which you can see below — shows Trump has at other moments donned an anti-racist mantle, however.
In fact, Trump once cast himself as a champion of "Jews, blacks, gays, and Mexicans" against a populist Republican presidential candidate, Pat Buchanan. His tough new rhetoric is the latest in a series of evolutions that has shown him go from Reform Party populist to Bush critic to Obama fan to conspiracy theorist to nativist Republican frontrunner.
Can the nativists even trust Trump?
"Republicans didn't have anything going for them with respect to Latinos and with respect to Asians," the billionaire developer says. "The Democrats didn't have a policy for dealing with illegal immigrants, but what they did have going for them is they weren't mean-spirited about it," Trump says. "They didn't know what the policy was, but what they were is they were kind."Romney's solution of "self deportation" for illegal aliens made no sense and suggested that Republicans do not care about Hispanics in general, Trump says."He had a crazy policy of self deportation which was maniacal," Trump says. "It sounded as bad as it was, and he lost all of the Latino vote," Trump notes. "He lost the Asian vote. He lost everybody who is inspired to come into this country."The GOP has to develop a comprehensive policy "to take care of this incredible problem that we have with respect to immigration, with respect to people wanting to be wonderful productive citizens of this country," Trump says.
Or what Trump said to The Advocate in 1999 about Pat Buchanan when he was flirting with a Reform Party presidential run.
Buchanan's 2000 platform included a number of planks almost identical to modern day Trump's.
Buchanan offered: a trade protectionist attitude and rhetoric against immigration and Washington corruption; and proposed limiting donor influence in politics and isolationism.
"Cultural institutions already under assault by liberals who despise our heritage were unable to assimilate the 30 million immigrants who flooded into the U.S. over the past three decades," wrote Buchanan on his website. "Exploding crime statistics, swamped social services, and the rise of ethnic militancy tell the sad story. This year, 1.3 million more immigrants will pour into the U.S.-400,000 of them illegal aliens. If America is to survive as "one nation," we must take an immigration "time out" to mend the melting pot."
"It is a disgrace; it is overrun; it's treated with contempt by the Mexican government, by illegals," Buchanan said at one border visit with reporters that year.
It was Buchanan at the time whose tough anti-Mexico rhetoric was drawing routine condemnations for Hispanic leaders in the United States.
It wasn't just in interviews that Trump slammed Buchanan, who used heated rhetoric similar to Trump's present day rhetoric about Mexican immigrants.
Trump took Buchanan to task time and again in his book saying he said too many outrageous things to be president. Yes, really.
"Pat Buchanan has been guilty of many egregious examples of intolerance. He has systematically bashed Blacks, Mexicans, and Gays," wrote Trump in his 2000 campaign book The America We Deserve.
"Pat Buchanan has been a columnist required to churn out unconventional and newsworthy views on a weekly basis," wrote Trump. "Only late in his life did he decide to shift to electoral politics and seek the presidency. Simply put, Pat Buchanan has written too many inflammatory, outrageous, and controversial things to ever be elected president."
In fact, Trump said Buchanan's past Republican presidential candidacy unraveled "immediately after his New Hampshire successes as voters began to focus on his outlandish opinions."
He also warns his followers that the United States is controlled by Jews, especially regarding foreign policy. On slow days, he attacks gays, immigrants, welfare recipients, even Zulus. When cornered, he says he's misunderstood.While he has not taught us anything about history, Buchanan has once again told us a great deal about himself. It's time the United States learned the lesson of who Patrick J. Buchanan really is.The fact is, he has a deadly serious purpose. Buchanan is rewriting history and spreading fear for one purpose: To gain political power. That makes him a very dangerous man.Unfortunately, Buchanan is very much with us. He has remained a major media presence throughout these scandals, and he has high hopes of hijacking the Reform Party presidential nomination. He has struck out with the Republican Party and is now grasping desperately for a new political vehicle--and the $ 12 million in campaign funds that comes with it.I will do all in my power to see that this hijacking does not succeed. Nor will I stand idly by as Buchanan promotes his dangerous ideas. Others have already fallen silent, but silence is not an option. There is far too much at stake.
And in his book The Donald cited his great respect for the diversity of American culture, and proclaims that he has "little appetite" for those who speak hatefully.
"My longtime involvement in promoting some of the biggest boxing events in history has allowed me to become friends with men like Muhammad Ali and Joe Frazier," wrote The Donald. "Through them, and through more recent friendships with Puffy Combs, Sammy Sosa, and others, I've had the chance to learn firsthand about the diversity of American culture, and it has left me with little appetite for those who hate or preach intolerance."
"One of our next president's most important goals must be to induce a greater tolerance for diversity," he wrote. "The senseless murder of Matthew Shepard in Wyoming— where an innocent boy was killed because of his sexual orientation — turned my stomach. We must work towards an America where these kinds of hate crimes are unthinkable. There are some issues I don't want to say much about. I support a woman's right to choose, for example, but I am uncomfortable with the procedures."
And when Trump decided not to run for president in 2000 on the Reform Party ticket, he said it was because it was too fringe!
"The Reform Party now includes a Klansman, Mr. Duke, a neo-Nazi, Mr. Buchanan, and a communist, Ms. Fulani," Trump said in a statement on in 2000 on not running "This is not company I wish to keep."
I also saw the underside of the Reform Party. The fringe element that wanted to repeal the federal income tax, believed that the country was being run by the Trilateral Commission and suspected that my potential candidacy was a stalking horse for (take your pick) Gov. George W. Bush, Senator John McCain or Vice President Al Gore.When I held a reception for Reform Party leaders in California, the room was crowded with Elvis look-alikes, resplendent in various campaign buttons and anxious to give me a pamphlet explaining the Swiss-Zionist conspiracy to control America.
So besides the massive flip-flips from Trump on...
Iraq,
Reagan,
the Bush family...
...and well, everything else, even on bigotry Donald Trump is either insincere now, or was then.