Trump: Ted Cruz "Backs Anything I Do Because We Have Similar Views"
"I mean, virtually everything that I've said he's backed."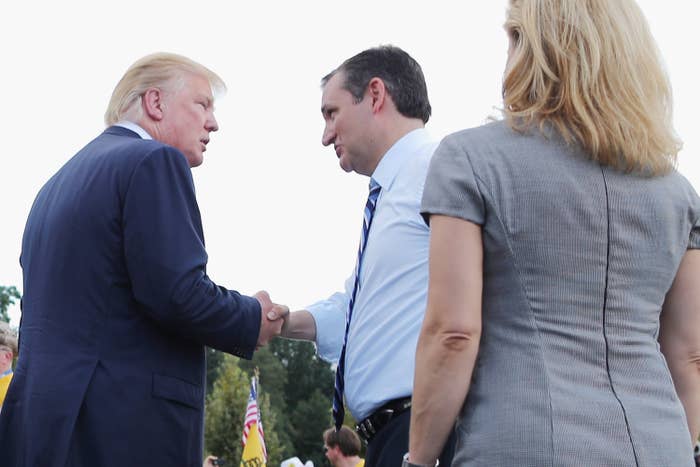 Donald Trump says he and Texas Sen. Ted Cruz have a "good relationship" and that Cruz backs everything he says because they share similar positions on issues.
Speaking two weeks ago with local Texas radio host Michael Berry, the Republican front-runner said he and his presidential rival Cruz line up the same on basically every issue.
"Well it's a good relationship," Trump said of Cruz. "He's a good man. He's a conservative guy. He's doing pretty well. He's doing pretty well. Fortunately, he's not doing as well as I am, but these are minor details. He's doing pretty well and he's said wonderful things about me and he actually backs anything I do, because we have similar views."
"He's not doing this out of a weakness, he's doing this out of a strength. He backs virtually everything that I said — wouldn't you say," continued Trump. "I mean, virtually everything that I've said he's backed."
While Trump has traded barbs with most of his Republican opponents, he and Cruz have maintained a largely cordial relationship, with the two offering each other praise at various points during the campaign. Trump said during the interview that Cruz had even backed his position on deporting undocumented immigrants, although he added he wasn't sure if that was true (Cruz has called for enforcing existing deportation laws and deporting criminal undocumented immigrants, but has not expressed support for the kind of mass deportation advocated by Trump).
"Well, we line up on most of the issues if not all, and I actually hear that as of last night he actually came along on the deportation issue with respect to what I'm doing and I don't know if that's right or not," said Trump. "At first it was softer than mine but I think he's lined up on that too. Look, he's a good man. I like him personally, number one. I respect him and he feels the same about me and we have a good relationship. And we've been very supportive each other. Now at some point, if there's two of us left, I don't know if that's going to happen."