Democrats, Progressives Refuse To Denounce Recordings Of Mitch McConnell
The NRSC is calling on organizations such as the DNC, DSCC, Think Progress, Mother Jones, American Bridge, and others to denounce a secret recording of Sen. Mitch McConnell discussing opposition research on Ashley Judd they described as "Watergate-style tactics." McConnell's campaign manager said Tuesday they are working with the FBI to investigate how the tape -- which was published today by Mother Jones -- was recorded.
Mother Jones
We are still waiting for Sen. Mitch McConnell to comment on the substance of the story. Before posting this article, we contacted his Senate office and his campaign office—in particular, his campaign manager, Jesse Benton—and no one responded. As the story makes clear, we were recently provided the tape by a source who wished to remain anonymous. We were not involved in the making of the tape, but we published a story on the tape due to its obvious newsworthiness. It is our understanding that the tape was not the product of a Watergate-style bugging operation. We cannot comment beyond that.
Democratic Opposition Research SuperPAC American Bridge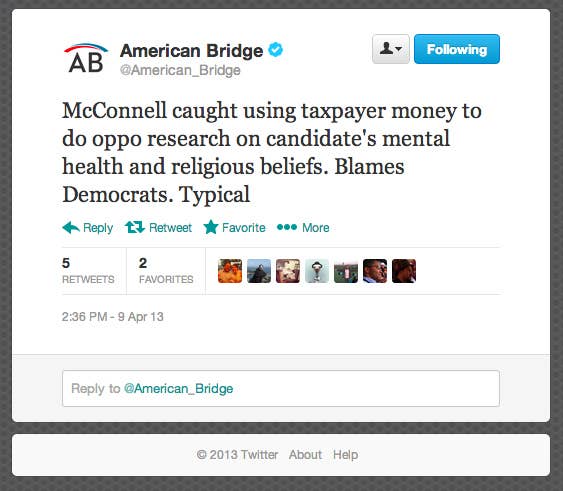 Think Progress Editor-in-Chief Judd Legum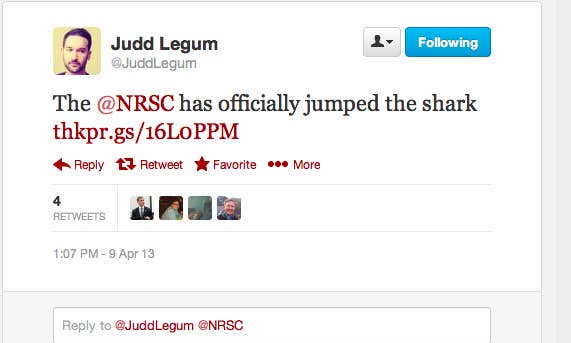 Democratic National Committee Communications Director Brad Woodhouse
Democratic Senatorial Campaign Committee Executive Director Guy Cecil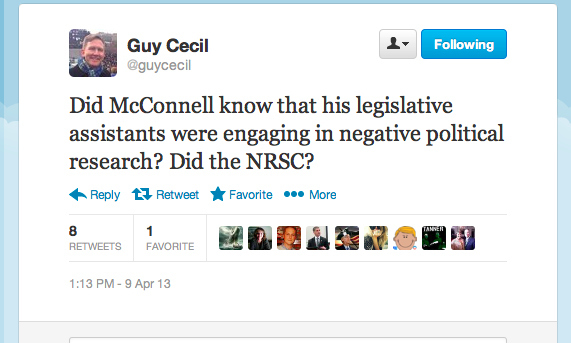 Democratic Senatorial Campaign Committee Deputy Executive Director Matt Canter