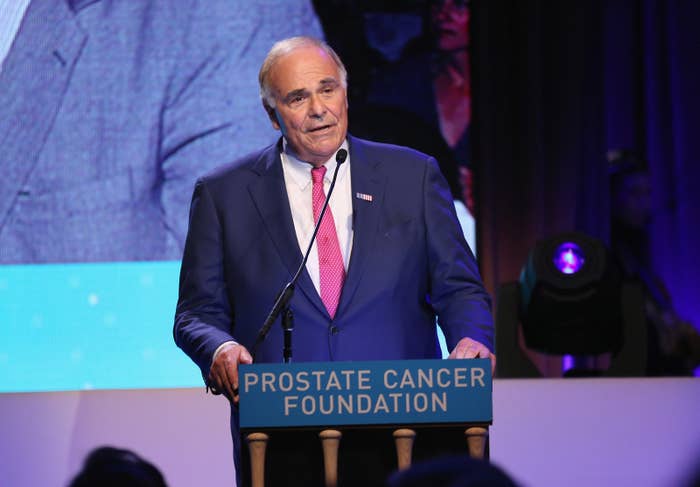 UPDATE: Ed Rendell sent this statement to BuzzFeed on Thursday after a brief phone call.
BuzzFeed's headline and statement in the article about Donald Trump and trade was way off the mark. I did say in the radio interview that I thought Trump was largely correct in his position about China, in fact, in a book that I wrote in 2012, I wrote how I thought China was taking advantage of us, dumping product in the US, and taking American jobs. I gave Trump credit for his position way back then, but my view that China is taking advantage of us, is also shared by another Democrat, Hillary Rodham Clinton. She has said the same thing on many occasions, and has promised that she will take steps to make sure that China does not continue some of its unfair trade practices.
To say that I believe that Donald Trump is right on trade couldn't be more wrong. I was a strong supporter of TPP and in fact, was one of seven former Democratic National Chairmen and one of fourteen former Democratic Governors who wrote the Congress urging their swift passage of it. Donald may have said some things that are right about China, but his position on trade would be a disaster for our country and for American consumers.
Former Gov. Ed Rendell says Donald Trump's message on trade is largely correct, but that his tone is sometimes wrong on the subject.
Rendell, who is the chair of the Democratic convention host committee, made the comments on SiriusXM radio's The Dean Obeidallah Show.
"The interesting thing is, I talk about China and the fact that China took advantage of us in trade and cost Pennsylvania some significant jobs, and I quoted Donald Trump in the book," Rendell said, noting Trump backed him heavily when he ran for governor.
Rendell's 2012 book praises Trump as "a friend" who is right on China.
"You know all that Donald Trump says isn't wrong," continued Rendell. "It's the way he says it — and there are many things he does say that's wrong. But he's right about China. We have for some reason not stood up to China. We've allowed them to manipulate their currency, which gives their businesses tremendous advantage in selling to America. They came in here and tried to dump low-priced, subsidized steel pipe to get rid of the steel pipe industry in the U.S."
Rendell said he fought hard against China dumping steel in his state, but they lost many jobs in the process.
"So, there are some things that Donald Trump talks about that do have a germ of reason or a germ of truth," said Rendell.
Still, Rendell said he was not supporting Trump because of his rhetoric, saying he was trying to "divide us."