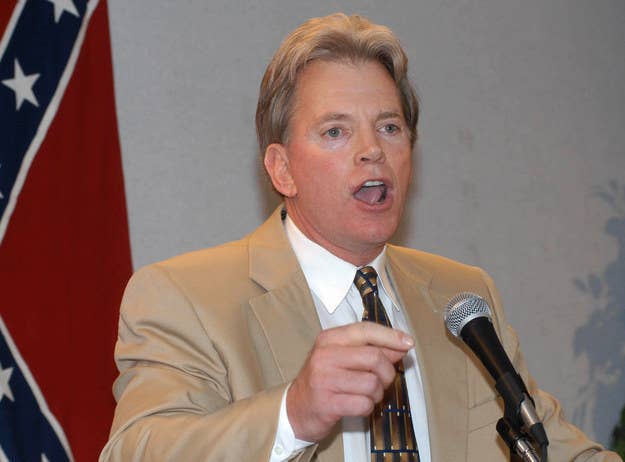 Prominent white nationalist and former Ku Klux Klan leader David Duke on Tuesday dismissed Donald Trump's explanation of his controversial tweet featuring Hillary Clinton next to a pile of money, a Star of David, and the words the "most corrupt candidate ever."

A Trump staffer took the blame for the tweet on Monday evening, saying he found the image via an anti-Clinton Twitter account and believed it was a sheriff's star, not a Star of David. Duke, however, said on his radio show it was clearly not a sheriff's star.

"Let's go to the tweet. The tweet again shows Clinton, it shows a Star of David. Of course later the campaign made the excuse, 'Well, no, that's like a sheriff's badge.' Well, no way, folks. Clinton, money, the most campaign corrupt person," said Duke.
Earlier in the broadcast, Duke praised Trump for the tweet, saying his tweet was "all true."
"We have situation right now where Trump is being absolutely pummeled for, guess what, posting a tweeting that shows Hillary Clinton with a big — in the midst of thousands of hundred-dollar bills — a big Star of David, and the words 'the most corrupt candidate ever,'" Duke said. "And Trump tweeted this: 'Hillary Clinton the most corrupt candidate ever.' Now of course, the media immediately came out and said that this was 'anti-Semitic.' But of course, it's all true. We're not talking about something that's not true."
Duke said all the "Jewish extremists" were supporting Clinton.

"So everything in the tweet that Donald Trump retweeted, that his campaign retweeted was absolutely correct," concluded Duke. "Absolutely right."
He said it was important everyone vote for Trump, because even though he wasn't "strong enough on these issues," he was the only thing they had against Hillary Clinton.