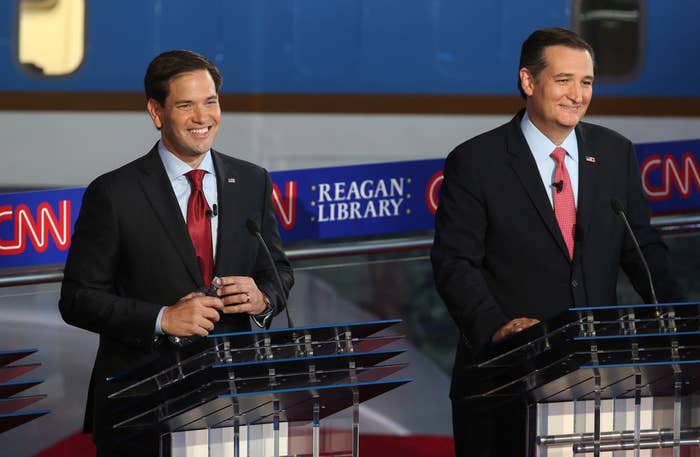 David McIntosh, president of the influential conservative advocacy group Club of Growth, says Florida Sen. Marco Rubio and Texas Sen. Ted Cruz are the "gold standards" of Republican presidential candidates.
"What we need to do is, on the presidential, tell people the truth about Trump, so that several other candidates who are very good, Marco Rubio, Ted Cruz at the top, the gold standards, get a chance to be heard and have their messages get through the media fog," McIntosh said on WTMJ Wednesday while discussing why the group had gone after Donald Trump as a phony conservative. "When we looked at that we realized, the Club, we don't have to run for office, so it's okay if people get mad at us."
The Club for Growth said earlier this year they were bundling campaign donations for five candidates: Cruz, Sen. Rand Paul of Kentucky, Rubio, Wisconsin Gov. Scott Walker (who dropped out), and former Florida Gov. Jeb Bush. The group has declined to endorse a single candidate since the support of its board members is divided among those listed.
Still, McIntosh strongly defended Rubio as one of the most conservative candidates for office.
"No, not at all, he is one of the reformers who would come in and change things in Washington," he said when asked if Rubio was an "establishment" candidate. "I'm glad that he can build bridges to more establishment supporters and donors, but at his core he is a complete pro-growth, free market, limited government conservative. And as is Ted Cruz, and you know if we shift the leadership in the party to Ted Cruz or Marco Rubio, and then Paul Ryan as speaker, and we get more conservatives in the Senate, that's a huge gain for us."